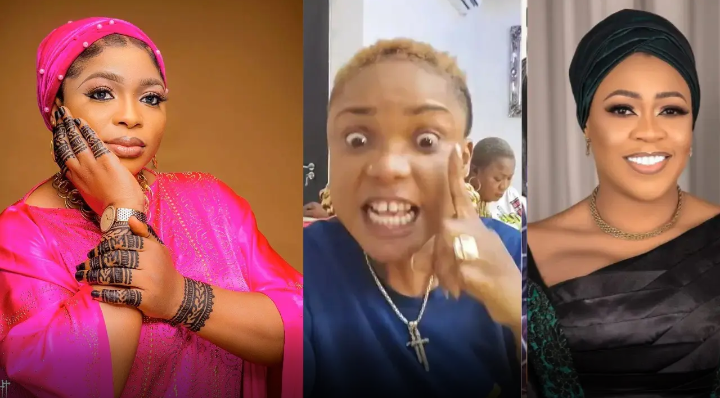 Nollywood actress Kemi Afolabi has thrown a shade at her colleague Tosin Abiola popularly called Omo Brish, for exposing the secrets of her former best friend, Iyabo Ojo.
This comes a few hours after Toyin Abraham took to her Instagram page to express love for Iyabo Ojo, saying she's someone with a good heart.
News earlier reported that Omo Brish, in a voice note, alleged Iyabo Ojo faked the car surprise gift, which she gave her former PA/manager Gbemisola, whom she claimed almost ruined her business.
According to Omo Brish, she bankrolled the movie 'Under The Carpet' and Iyabo Ojo boycotted her and refused to give her any credit but claimed the sole ownership of the movie.
Also, in the audio, Omo Brish alleged that she frequently sponsored Iyabo Ojo's trips to London and shared her salaries with her during their good times.
Omo Brish further alleged that Iyabo Ojo is always in the habit of engaging in fake surprises to impress people on Instagram.
Reacting, Kemi Afolabi took to her Instagram page to share a video of herself dancing in excitement as she issues strong warning to her colleagues and fans.
Kemi Afolabi said she would not accept being called anyone's best friends because anyone who calls her will be reported to the police station, and she will claim that the person pointed a gun at her neck.
Kemi added that she wonders how evil people sleep at night.
She wrote: IF anybody cal me BESTIE ISONU lasan! Na to go station report you say you put gun for my neck. I wonder how some evil people sleep at night sha #SMH ija ilara ki tan boro mtcheeeww