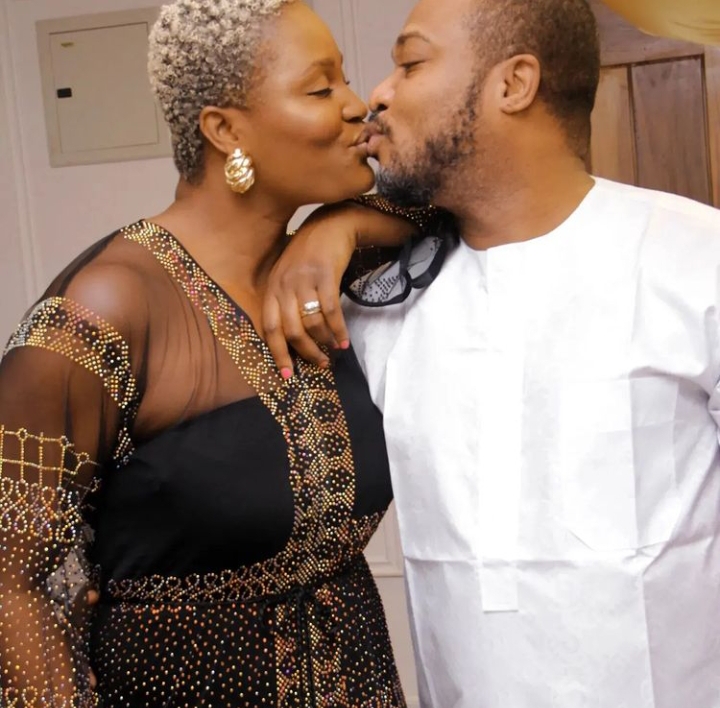 Nollywood actress Chizzy Alichi has just surprised her husband with $15,000 (N7m) and other stuffs as birthday gifts.
The movie star whose husband turned a year older on Friday, April 1 shared the surprise Birthday package photos on her verified Instagram page and promised her man that she would do better next time.
She wrote: " I just woke up from sleep 🙈🙈🙈 I come enjoy pass the celebrant 😁😁. Happy birthday once again my gift, manage the $15k and other small gifts, I will do better next time. I love you forever my happiness."
Recall that recently Chizzy Alichi said she will not quit her marriage or abandon her man because of infidelity.
Chizzy Alichi said she believes men are polygamous in nature, so a good number of them are unfaithful partners.
"I can't leave my husband because of infidelity. I have this orientation while growing up that "all men cheat" "men are polygamous in nature" and believe it or not most men cheat (there are still good ones though and my husband is number one). If you leave a cheating partner, what is the possibility that the next person will not cheat? But anyhow, it depends on what and how it happened," she said.
Giving reasons why her husband is not active on social media, Alichi maintained that the fear of homewreckers is not part of her worries.
"My husband doesn't have a social media account, well not all. He is only on Facebook. I'm also not scared of husband snatchers. I mean who is that? she carry 10 heads? I'm a whole package and my husband is forever grateful. He is the one scared of losing me. I had many suitors, people richer than my husband but I choose my husband because he is my best friend, play and gossip mate and rich of course, (who no like better thing)," she gushed.