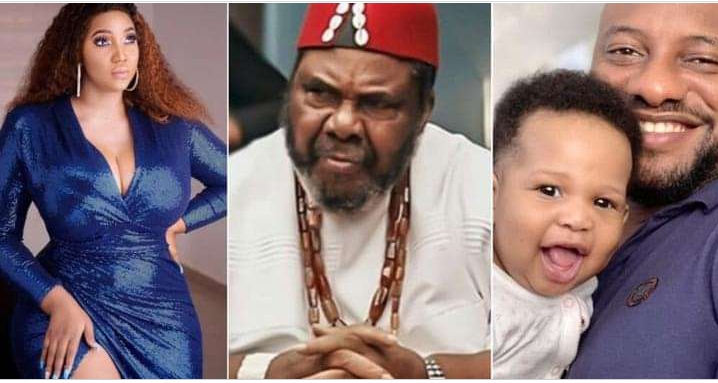 There is a report making the rounds online that veteran Nollywood actor Pete Edochie is allegedly not on good terms with his son Yul over his decision for a second wife.
Yul Edochie broke the internet on Wednesday, 27th April 2022, after sharing photos of his new baby with his side chick, Judy Austin, turned second wife.
Reacting to the news, Yul Edochie's wife, May, expressed her pains as she rained curses on her husband and Judy Austin.
However, controversial Instagram blogger Gistlover, in a post detailing how Yul Edochie got Judy Austin pregnant and her refusal the abort the baby, alleged that Pete Edochie is not on good terms with his son.
The source added that Pete Edochie did not support the whole affair, but he got no choice because they all must sustain Yul Edochie's political ambition.
The post read: Pete edochie is not in good terms with his son as he was not in support of the whole affairs but he got no choice because they all must sustain that political ambition to portray to Nigerians what yul is not, so Sunday now them fo pay bride price and it was as low key as ever and no phone was allowed.
All along the wife didn't know about the whole bride price thing, to cut long story short thr low key wedding she reach Vawulence Headquarters and we decided to congratulate Yul on his oriburuku ooo, naso I forget again, his wife saw his picture for Vawulence headquarters Na so she begin torch light every corner.
She come find out say them don go pay bride price for Aunty side hen , so yesterday I was sitting jeje on my own ooo, Na him one GLB Nation come remind me say we get pending Vawulence for yul head ooo, naso I kuku break am for comment section.
Yul seeing say him don cast small small decided to kuku break all the table himself post side wife and side pikin, naso original house wife vex oooo wey the matter turn yam pepper scatter scatter Na this matter we still Dey try settle since morning ooo them don drag yul like I pass my neighbor generator oooo, igi ewedu don fall on yul las las oo