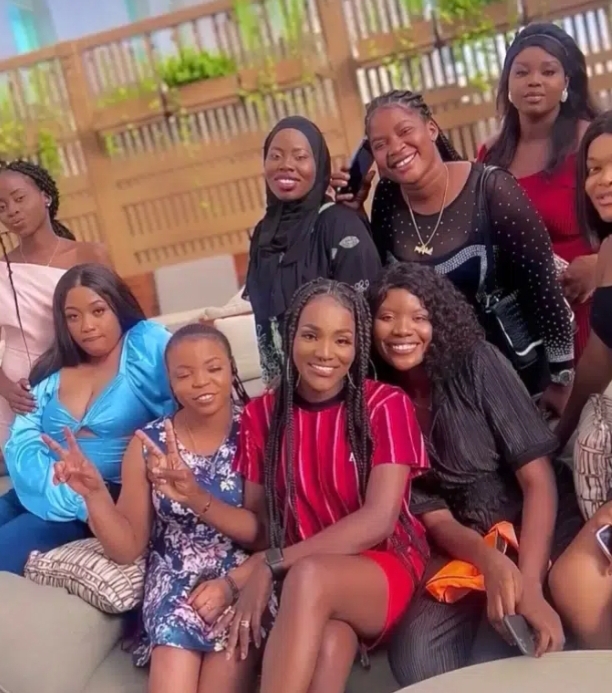 Nollywood actress, Bukunmi Oluwasina has been treated to a surprise birthday bash from her fans, fondly known as Bofanites.
It was reported that Bukunmi Oluwasina clocked age 32 on Saturday, May 7th.
Pranking their favorite, Bukunmi's fans told her they wanted to take her to a local restaurant but they ended up taking her to a hotel where they had booked reservations for her.
The actress was treated to sumptuous meals, cakes, and lots of gifts.
Taking to her Instagram, Bukunmi penned an appreciation post to them for the love.
She wrote, "I had the best birthday ever yesterday, that I couldn't get enough time to post here. Las las mo pads no jedijedi. I want to say a big thank you to everyone who celebrated my birthday with me yesterday. The calls, the prayers, the posts, the gifts, the money, the bizabiza… I appreciate you all…Thanks a lot. So @bofanites told me they wanted to take me out for lunch date in a local restaurant in Agege so we can all eat Eba and Okro together, And begged for 30 minutes of my time. Agege is too far, But well, I felt it's not a bad idea, as long as that makes them happy and as long as they sell correct Eba and Okro there, we can be happy together livinlavidalocal. But they said we would meet up in @wakemelagos so they could lead me there. I followed google map just to realize this people actually brought me to @marriottikeja and booked reservations cos won Fe gbe mi trabaya. I had a super classy, exotic and fun filled lunch date. Courtesy my fans and @marriottikeja also presented me that amazing gift realizing I was the one they actually made reservations for. I don't get where that smoke is coming from, but I absolutely love what I took. Thank you @marriotthotels. Thank you @boalites e ku inawo ana o. La ma paro ka ma jale, o por fun warisi. No matter how much you hide, you can never hide from 3 people, God, a wife that wants to know if you are cheating and a die hard fan. They would always find a way to know where you are. They got me. My sweet fanmily @bovotaries and @boaloties showed up unexpectedly to bless my evening with amazing gifts. I love you so much Fam. Thanks a whole lot. And the later evening was the sweetest part, as I could finally have my sweetest moment with the most precious people in my life. My beautiful family and sweet friends. Could hardly capture moments cos it was more like a Phone free fun filled Evening. Thank you all for making my Birthday a memorable one for me. If I start mentioning names, space no go contain am. I just want you all to know I love you and really appreciate you All. God bless you All. Nkan ire la ma ba ara was se lagbara oloun".
It was recalls Bukunmi Oluwasina clocked 32 on, May 7th, 2022.
The actress took to Instagram to share stunning photos of herself dressed in pink.
Bukunmi penned an appreciation post to God, she wrote, "Lord, I just want to say, thank you for loving me. Grace will forever be grateful. +1. +Everything Great God and Life Could Offer".