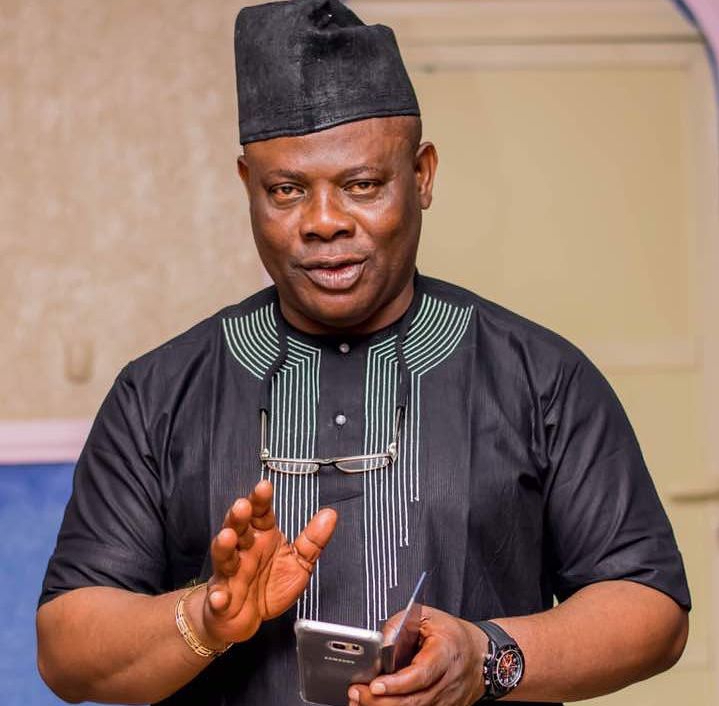 Veteran Yoruba movie actor Yinka Quadri is now officially giving out his daughter, Yewande's hand in marriage to her baby daddy whom she has three sons with.
The love birds decided to make their union official by receiving their parents' nod approval and blessings today, May 12, 2022.
Filani reports that Yewande and her lover welcomed their third son a few weeks ago, on the Ist of April, 2022 and has been christened as Omorinsola Ibikunle.
"Another blessing added to d family… God has been so good to me… officially Boy's Mom…" Yewande announced to her friends.
An excited Yinka Quadri has now shared a video from the ongoing Nikkhai ceremony of his daughter, with the caption "My arrival at the Nikah ceremony of my daughter, Adijat Yewande Quadri… My Princess, wishing you immense happiness, joy, and laughter for your married life. May you have a successful married life."
It was recalls that Adenike Quadri, the bride's mother and also the one and only beautiful wife of veteran actor, Alhaji Yinka Quadri recently revealed how they have been able to stay happily married for over 30 years now.
Adenike who was previously a Christian who converted to Islam for her husband's sake, said "My husband and I are from the same town. My father was very popular and very wealthy when he was alive, the same thing with my father in law. The two families knew each other very well. So, it was so easy for my father-in-law to succumb and support our union 100% irrespective of our religious differences because he knows my father's pedigree.
yinka quadri and wife
Moreover, my family doesn't discriminate. Though my father was already late then but my mother played a big role in our relationship. She was one of the people who chose my husband for me. She was very happy with my husband and accepted him wholeheartedly. Alhamdulillah, we have been very good friends since then. Like I said, my husband and I never fought for 1minute. You know it's not easy to keep a woman or live with a woman without misunderstandings, but any moment I want to get angry and my countenance changes my husband knows how to calm me down. Ever since I got married to him, nobody, not even my family has ever interfered in the affairs of my home, and I'm enjoying it and I will enjoy it for the rest of my life."
As a Muslim and a top theatre practitioner with women always hanging around him, many people expected the veteran actor to be married to more than one wife.
Surprisingly, however, he is married to just his wife and has been able to keep his age-long marriage going.
"I am with one wife; we have been together since 1985. But before we got married, I already had a child from someone else. I had a normal wedding ceremony with the woman, but along the line, we discovered we were not compatible. We would stay together in a week, that makes 7 days, we would fight for 5 days and just be friends for 2 days, so we were not compatible and we did that for 5 to 6 years, so our parents decided it was better we went our separate ways. And after she left, I met my wife, Nike in 1985 and we started having kids in 1989 and she is the only woman in my house." Yinka Quadri once revealed in an interview.