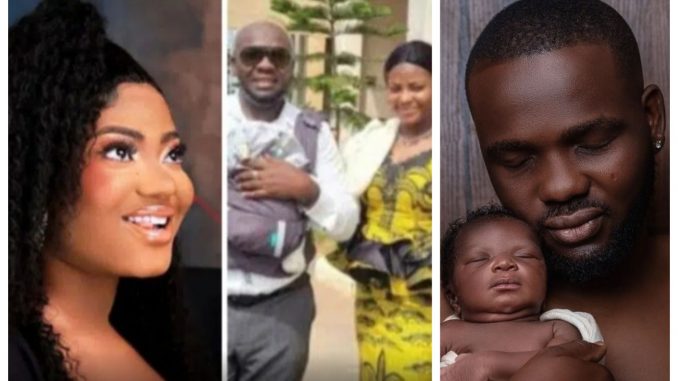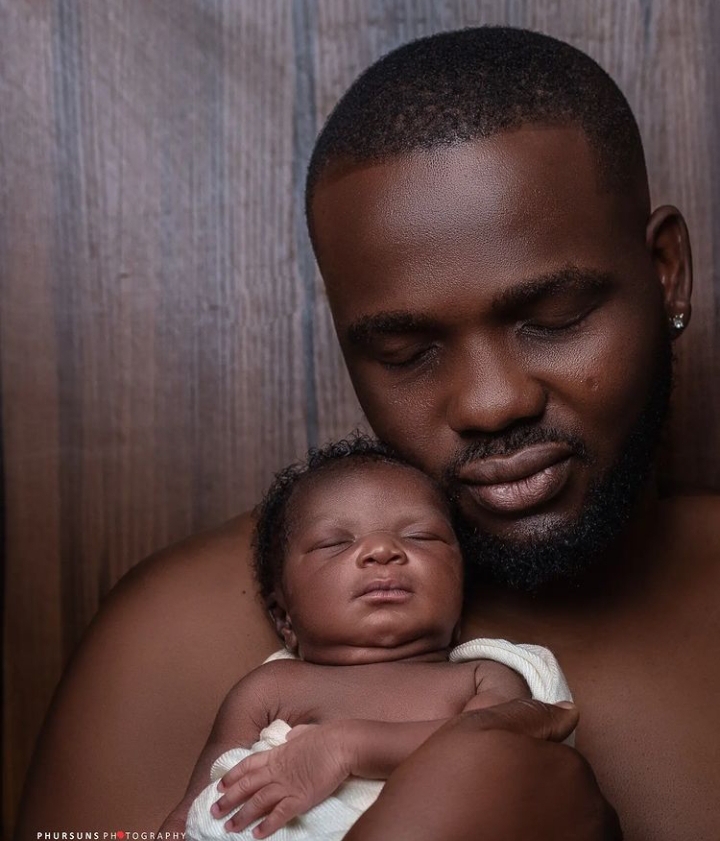 Following reports that his second marriage has crashed, actor Yomi Fabiyi has now unfollowed all his colleagues with the exemption of 25 people including his wife, Grace.https://www.nollygistvibes.com/2022/05/11/actor-yomi-fabiyis-second-marriage-crashes-three-months-after-welcoming-son-wife-calls-him-out/
It was recalls that on the 11th of May, 2022, Yomi Fabiyi's new wife, Grace Jimoh Fabiyi dragged him on social media. The mother of one took to her Instagram story to call him out and issue a stern warning to him; a move that further fueled their marital crisis rumours.
Grace warned him not to push her to the wall. She wrote, "Yomi don't push me o @realyomifabiyi".
In another post, she wrote, "If you don't want God to punish you @realyomifabiyi". However, the post has since been deleted.
Now responding to the viral reports of his crashed marriage, actor Yomi Fabiyi, after unfollowing his colleagues posted a photo of himself and three months old son with this lengthy caption below:
"Whenever I feel the urge to talk, to tell my side of the story, to show how peaceful, nice, kind, non-violent, non-troublesome, law abiding, instead of coming to talk on social media which has been bastadised by E-witchcrafts, I rather seat DELIGHT, AKOREDE FABIYI down and pour out to him.
He is now my bestie, my paddy, my gist partner. He gat my blood running in his veins. He came at the right time to bring light(Imole) into my life and family, which will invariably usher in long lasting blessing(AKOREDE), bearing in mind that my story is almost synonymous to that of Joseph(Yusuf).
SOCIAL MEDIA and a handful QUACKS are taking over the 4th Estate(Real Journalism). They are abandoning the right thing and glorifying criminals who hides their identity to TORTMENT and VIOLATE RIGHTS. You even find real media houses seeking a rejoinder quoting such a source, what a shame. I won't respond to such, I have come a long way to allow social media terrorist and criminals dictate my life and MO.
These syndicate(most within the movie industry, formerly in the industry, lesbian ring and few in diaspora) created a social media portal to hoodwink many ignorant young people and careless adults into this criminality they fake as blogging and journalism. They are not complete until they read junks and violations of other people rights. What a demonic spirit.
BUT WE DEY LOOK. I don't make trouble, I only make GOOD TROUBLES. Nobody is invisible if you are online no matter how you switch IPs and Phones. One Day will be one day. CHANGE BEFORE IT IS TOO LATE."