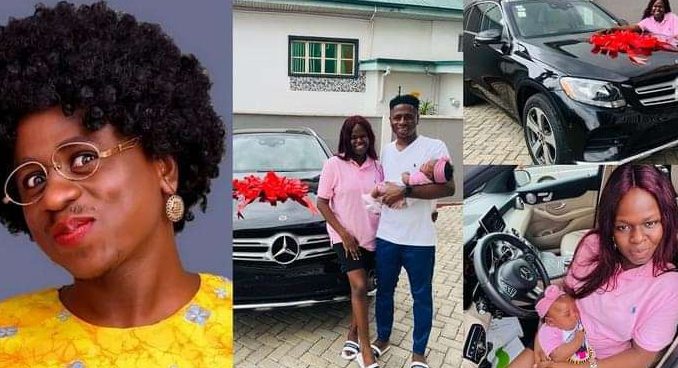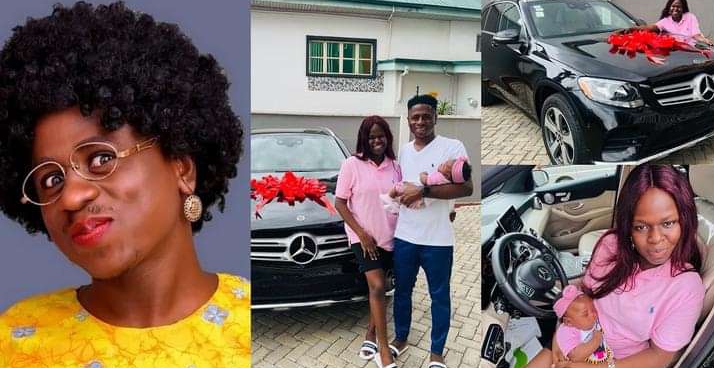 Instagram skit maker, Ayodele Aguda, better known as MCshem has gifted his spouse a brand new Mercedes Benz as a push present following the birth of their second child.
The comedian surprised his lovely wife, Toyin, by presenting her with an exotic whip, a black Mercedes Benz.
The ecstatic father shared photos and a video of the vehicle on his Instagram page, with over 200k followers, moments ago.
Sharing the photos, he thanked his wife for birthing their baby girl, "Thank You Oluwatoyin For My Baby Girl @toyinaspire #PushPresent #pushgift". He wrote.
The comic act had taken to social media to announce the arrival of their second child, a baby girl, in April 2022.
He shared photos of his little angel, with the caption, "MY PRINCESS IS HERE God's love to me is beyond real, he has proven himself yet again! Thank You @toyinaspire #daddytoaprincess #daddyoftwo".
Watch video below,
https://videopress.com/embed/J6ODVP4f?hd=1&cover=1&loop=0&autoPlay=0&permalink=1&muted=0&controls=1&playsinline=0
In other news, Nollywood Star, Blossom Chukwujekwu found love again and he recently sealed it by getting married in grand style.
The Popular Actor expressed his gratitude to those that celebrated with him and his new wife, Pastor Ehinome on their wedding day.
Blossom and Ehinome tied the knot traditionally last Friday, May 20.
He shared more wedding photos and wrote; "For celebrating with us on our wedding day. We are really grateful for your prayers, presence, Love and support. God bless you richly, with much love."