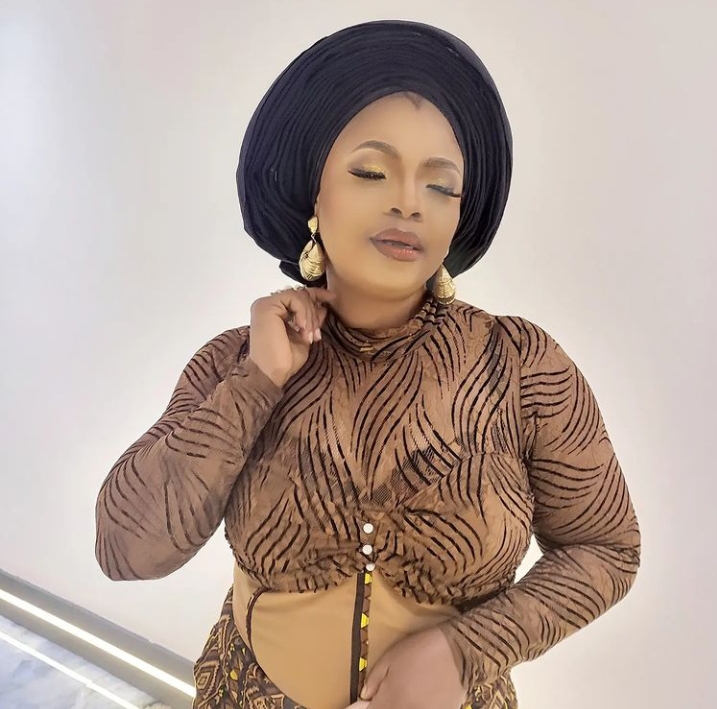 Nollywood actress, Laide Bakare has finally showed off her teenage daughter following backlash.
It was reported a day ago that the actress had shown off her two sons in celebration of Children's day.
Her fans had called her out for completely ignoring her daughter from the Children's day posts.
Bowing to pressure, Laide Bakare shared a TikTok video of her daughter, Simi dancing as she appreciated those who queried her over her daughter.
She wrote, "For those asking for Simi, this is Simline Boss thanks for the love happy children's day my love. But wait o, na me Born this fine girl?".
Nollygistvibes recalls Laide Bakare had called out her ex-husbands, Alhaji Mutairu Atanda Orilowo and Olumide Okufulure for being deadbeat fathers.
The mother of three who had been married twice and shares two kids – boys with her second husband and a daughter with her first husband shaded them for being deadbeat.
Laide Bakare described them as "Awon ex-hubby isonu".
According to her, her ex wanted her to suffer and for her life to be destroyed but God didn't allow it.
Laide Bakare stated that she wouldn't fight them because God had already fought her battles.
"You want me to suffer" Laide Bakare drags her two ex-husbands
Laide and ex-husband
"I wouldn't fight with you because God has already fought my battles. U that want my life to be destroyed so I wouldn't be able to redo or repair it, God will destroy your own. You want me to suffer without having anything to gather to eat, God will not accept it for you".
"You want me to suffer" Laide Bakare drags her two ex-husbands
Laide Bakare an another ex-husband
"Regardless of form or content, every message is an expression of a need, tomorrow is children's day, can't wait to spoil them silly. Awon ex-hubby isonu".