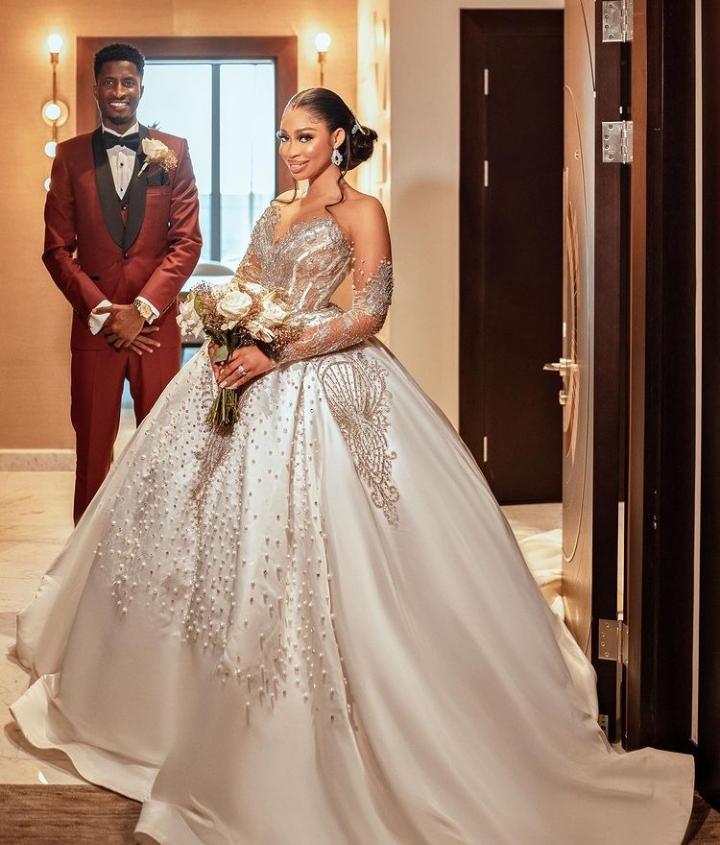 Yetunde Barnabas is a Nigerian model, beauty queen, actress and film producer. She initially gained recognition as the winner of The Most Beautiful Girl in Abuja pageant in 2017 and was crowned Miss Tourism Nigeria in 2019.
She is best known for role as Miss Pepeiye on Nigeria's long running sitcom, Papa Ajasco and Company, as well as several leading roles in the Yoruba movie industry.
She married Nigerian professional footballer Peter Olayinka on 19th june 2021 who currently plays as a striker for Slavia Prague in Czech Republic.
Today 19th June 2022 Yetunde Barnabas and her husband celebrate their first wedding anniversary as she wrote on Instagram;
Hmmmmmm How time Flies, Feels like just Yesterday When I said YES I DO one year ago to the one who stole MY HEART🖤Well I'd say YES to you over and over again😜 it has been my best year so Far with you.
You make everyday worth it, I'm overwhelmed with so much joy and happiness today. My heart and mind are filled with love and sweet memories of our love, You make me the happiest woman on earth everyday.
When I'm down you lift my spirit and assure me of how much of a treasure I am to you. I can't even imagine a life without you. I'm So proud to call you OKO TEMI NIKAN
OLOWO ORI MI
BABA BE MI
MY SUGAR ZADDY 👅
Thank you for bringing your sweet self into my life. I promise to always Love, pray, support, comfort and always Stand by You…. So help me GOD AMEN.🙏🏻
HAPPY ONE YEAR ANNIVERSARY TO US🥂
I LOVE YOU NOW AND FOREVER BABY🖤🖤🖤👑
YOursforever #YOursforevertillforever #yoursforever2021