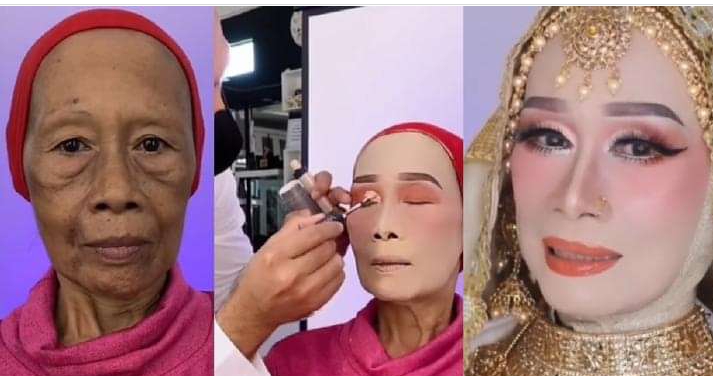 A video making the rounds on social media shows the moment a very skilled Makeup Artist transformed the face of an elderly woman to that of a beautiful Lass.
In the video, the artiste documented the detailed way and sumarrized the step-by-step process of applying the 'face beat'
The result of his work was fantastic and it elicited funny reactons.
See video below;
https://videopress.com/embed/WxmtiKNP?hd=1&cover=1&loop=0&autoPlay=0&permalink=1&muted=0&controls=1&playsinline=0&useAverageColor=0
Below are some reactions culled from the post;
honeybee wrote;
There is nothing wrong with that,he is an artist he is just showing his skills, and he is a professional makeup artist,he can turn a 70yrs old to 35yr
this is where you wake up with something in your house and wonder where the hell did that beautiful gal you came home with go,
KiranJanaan 💜 wrote;
she have a right to look pretty aswell.regardless about her age.i appreciated the artist too
ragtoprabbit wrote;
She's lovely w/o the paint. Fun to play, but not necessary. Ppl don't need paint to be beautiful.