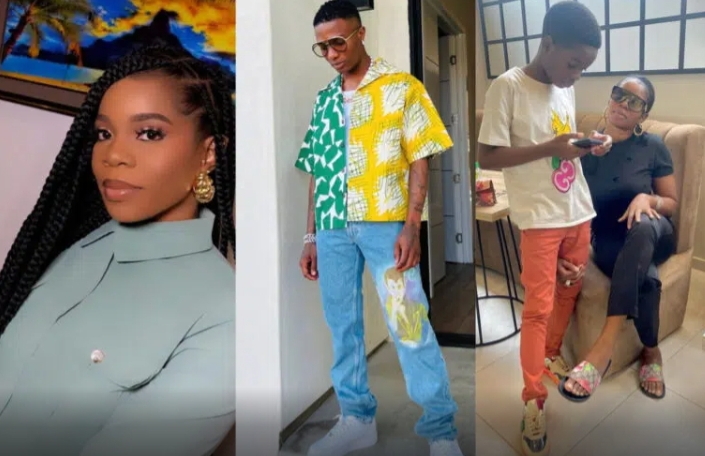 Shola Ogudugu, the mother of singer, Wizkid's first son, Boluwatife Balogun has revealed why her son left his class group.
The young lad who loves to distance himself from negative vibes told his mother that he left his class group chat because of the negative energy.
Bolu said in the video making rounds, "I am not really in the mood to argue, if you want to go on – I mean you can because like I said there is power outage so whatever. I am leaving the group because too much bad vibes in it and am out".
Sharing the video on her Instagram page, Sola Ogudugu stated that she never quite understand why he left his class group until she got her hands on the video and now she can resonate with his decision.
"Tife and his zero tolerance to stress! Yesterday He told me he left the zoom valss group cos he couldn't deal…but I didn't quite get it until this morning I found the video in the next slide whilst I was doing my usual phone check to be sure we are on par u get me? Lol. And you I cracked up so bad after watching!!!@official_tifebalogun why so angry?".
It was recalls Shola Ogudugu had weighed in on the alleged rape crime on a 10 year old student of Chrisland School.
Boluwatife Balogun, the first child of Wizkid and Shola attends Chrisland school and was among the chosen ones at the World School Games which held in Dubai a month ago.
Shola revealed that her son opened up to her on the incident and told her that it wasn't a rape case.
According to Shola, she was shocked when Bolu narrated the incident to her.
He told her that he couldn't stand the video his friends were watching and had to excuse himself.
He told his mum that they were playing the game of truth and dare and were making mind bugging dares.