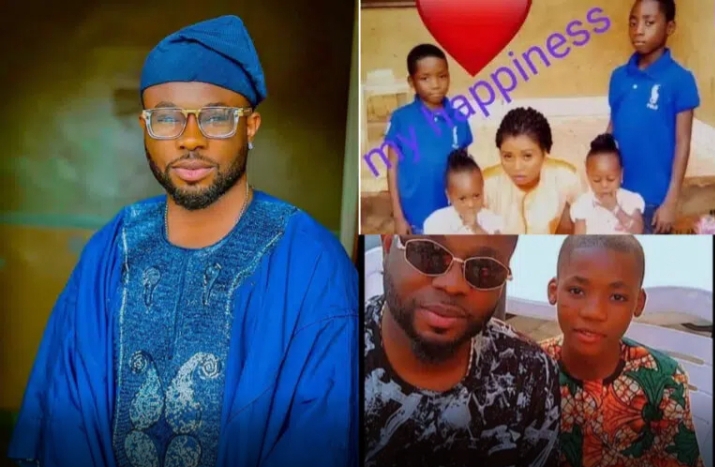 Nollywood actor Ibrahim Yekini better known as Itele has been in the news for the wrong reasons this week.
The actor who was called out days back for cheating on his wife with actress, Debankee has been called out by his alleged second wife for neglecting their children.
The second wife reached out to Gistlover blog where she spilled dirt's about the actor.
She revealed that the children had been at home since last week because of unpaid school fees.
The wife revealed that she had to lock them in the house before going out to avoid them roaming the streets.
"Hello tueh tueh, away from all the cruise and vawulence, let's be serious now, this is a voice note from the second wife, she said and I quote "Itele children has been at home since last week because she doesn't have enough money for feeding and school fees, today been Monday again she had to lock them in the house to avoid the shame of them roaming the street without going to school on a Monday morning, she also went further to say she didn't go to Dubai to do olosho ooo Na house help she go do for Oman" this one breaks my heart in as much as I know, if I tell GLB NATION to contribute for those kids now now, we will raise over a million for them, but I won't tell them to, for the first time we won't help, I mean, y'all are public figures, which day for here you buy keep, small time una go rent hall do another naming whereas pikin wey una born before hunger dey catch am, GLB Nation sef get their own wahala wey them go use money for, ni he say we no fit spare some for una but y'all should take responsibility for once, we understand say papaya Na Omo 2003 wey never get sense Na why we give her papa money, how about you Itele??? You are over 40, in your mid forties and you dey live life like this your 2nd wife dey do house help, them pursue children come house cause of school fees, first wife pikin dey go public school, yet you carry 3side chics out for body, small time you go come IG come dey do big boy with filter and Ava made Gucci, have some shame man, I ever dey cruise before but seeing situation of things, it's really sad, you can't be mean to your wives and children wey no get sin, na Jeje them dey before una knock bring them come this world, have some shame, GLB Nation I am sorry we won't be giving anybody money this time but make una go him page go help me beg am make him take responsibility of those kids, the 1st and second wife kids, the third wife dey there dey fight side chics up and down and won't advise the oloko giveaway man to care for his kids, all these oloriburuku side chics too be doing the most, all of una go dey alright but first thing first, take care of those kids or you jam agbako.".
It was recalls Ibrahim Yekini popularly known as Itele had vowed to reach "everybody" following the rumours which made rounds of his affair with colleague, Adebanke Adeyeye better known as Debankee.
The actor who was once linked to actress, Temitope Solaja had been alleged to be dating actress, Adebanke Adeyeye better known as Debankee.
To worsen things, Debankee was Temitope Solaja's friend.
Faceless blogger, Gistlover alleged that Debankee had been uploading intimate videos of her and the actor which Temitope Solaja got wind of.
Temitope had cautioned Debankee from dating the actor, however, Debankee rejected Temitope's advice and fired back at her and things escalated between the two.
Poking fun of the rumours, Itele shared a TikTok video with a lady where he promised to get to every lady.
"Itele go reach everybody. LADO oni did is here….".