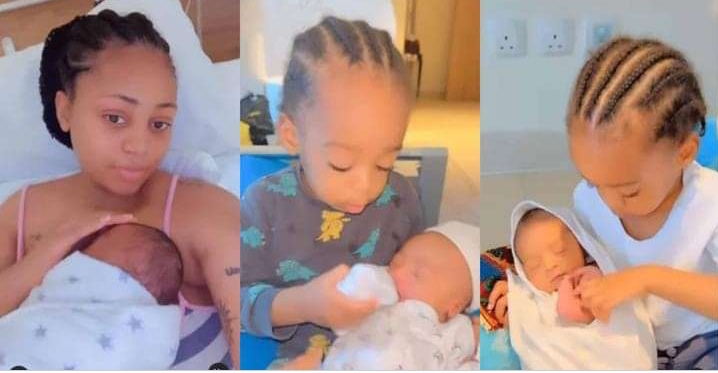 Nollywood actress Regina Daniels has left many gushing as she shows off the beautiful and adorable moments she had with her princes, Munir Nwoko and Khalifa Nwoko.
News recalls that there was wild jubilation online when Regina Daniels welcomed her second child, a boy, on the same birth date as her first son, Prince Munir Nwoko.
Before her second child's arrival, there had been rumours that Regina Daniels was expecting her second child, which was confirmed through the actress on Instagram.
Regina Daniels shared a compiled video of herself, her two sons, stepchildren, and her billionaire husband, Ned Nwoko, having fun while they adore little Prince Khalifa.
Sharing the video on Instagram, the mother of two revealed that she had repeatedly watched the video and is thankful for God's blessings.
Regina Daniels also disclosed how motherhood had been with her since the arrival of her bundle of joy, stating nothing gladdens her heart than seeing her little ones together and loving each other.
She wrote: I made this video, watched it over and over, kept thanking God for blessing me with this adorable little one and just can't help but share it with the world. I can't believe I birthed the same baby twice 🥺🙈
Motherhood is indeed so beautiful and nothing gladdens my heart than seeing my two little ones together and loving each other. 💕🥰❤️ @princekhalifanwoko @princemunirnwoko @princenednwoko
The video Regina Daniels shared online also captured adorable moments when Prince Munir took his big brother's duties seriously.