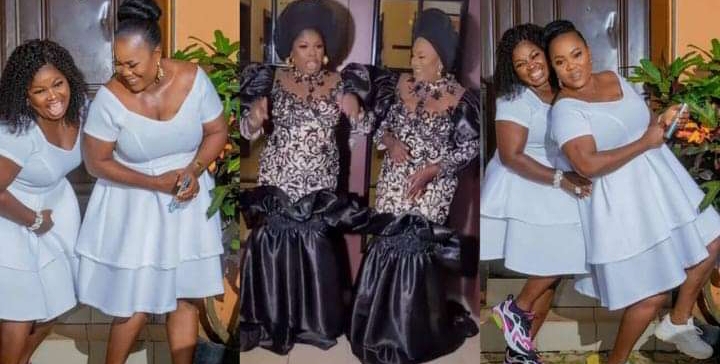 Nollywood artistes have showered love and prayers on their colleagues, Rukaya Lawal, known as Iya Ibadan and her best friend, Akinola Bose, as they take on friendship goals in matching outfits.
Iya Ibadan, via her Instagram page, shared a video of herself and Bose Akinola dancing heartily as they anticipate her friend's birthday on the 9th of September.
Sharing the video, Iya Ibadan wrote: Welcome to ur month Aunty mi Sinmiat 09/09 is da code @akinboss12
Nollywood stars including Bimpe Akindtunde, Wunmi Olabimtan, Fausat Balogun (Madam Saje), Habeeb Alagbe and others showered their friends with love and prayers.
Actress Bimpe Akintunde wished Bose Akinola ahead of her birthday and prayed they would not be separated.
Iambimpeakintunde: Awwww I Love eeeeet😢 In Advance Amoke AGBA @akinboss12 @iyabadansneh I Love you both ❤️ E o ni ya Ara yin lola Oluwa oba
Wumiolabimtan: Whaooooo😍😍😍this is awesome
Sajetiologa: In advance to you Ajokeade