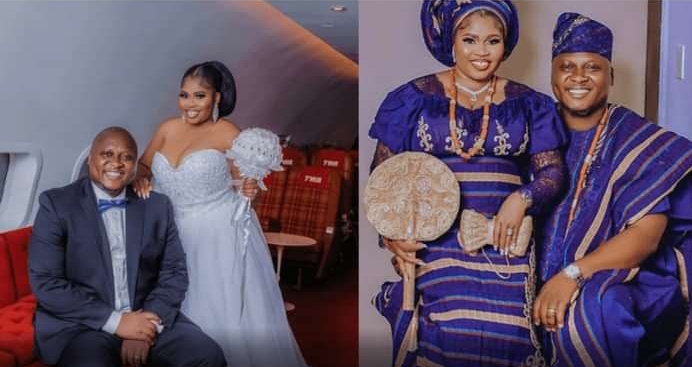 Actress Tawa Ajisefini has revealed that she was disvirgined by her husband, adding that he is the only man that has ever slept with her, and she won't take it likely if he ever betrays her or cheats on her.
In a live IG with her fans, the Tawa Ajisefini vowed to call "Adabi" on her US-based husband, Mr. Ali, if he ever hurt her anyway.
My husband is the only man that has ever slept with me on earth but if he betrays or cheats on me tomorrow I will call 'adabi' on him'. The only man I have ever known is my man, but a lot of men are animals, and because he deflowered me doesn't mean that he won't go out and cheat, he won't remember that he disvirgined me, but when he does, I will use my Quaran and call Adabi and call God of vengeance, God, you told me not to prostitute or defile my marital vows and I am loyal so let my head will fight against Mr. Ali when he chooses to betray me. I love him with all my heart but if he cheats, I will call Adabi for him" actress Tawa Ajisefini blew hot in the video.
Many of her fans have been left confused over the declaration on her Instagram page.
One Hanuola wrote "Ladies, when you practice abstinence, please do so for you. The same way I'd tell you that, when you have sex, have it coz you want to do so. You're NOT doing any man a favor by keeping your virginity, and neither are you doing him a favor by having sex with him. If you expect a man to be loyal to you coz he disvirgined you, then you're delusional A man will respect himself, his relationship/marriage, and his spouse, If he's that man, if he thinks they are worthy. Men are very intentional beings. They know what they're doing. If he's not that man, then lower your expectations."
One Bolu wrote "As if she is not a muslim. What else does she think is the only enjoyment for a man in life? A man will work and make it in life. Built several houses, companies and even have a lot of cars. But his children and wife will inherit it all. The only enjoyment Allah has created for a man is to have S*x and he Allah even add the clause of maximum of 4 wives. So stop ranting. Your adabi will only fight for you if the man is not doing the right thing. If he is paying his dues, Oologbeni, your adabi go enter your pocket. Rest I beg!"