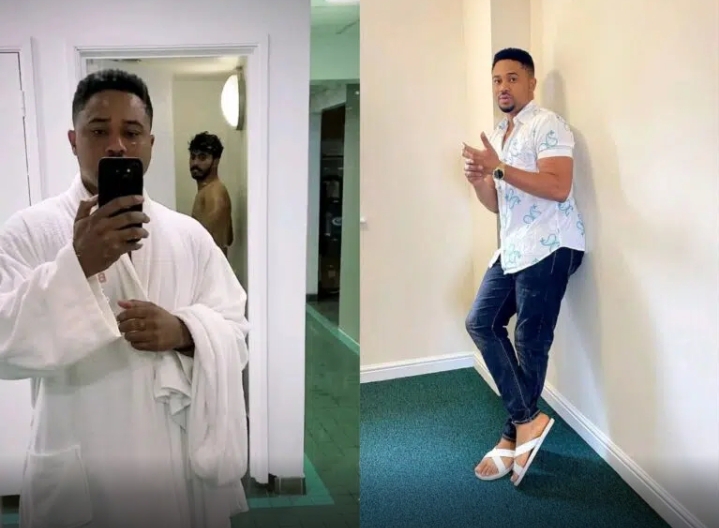 Nollywood actor, Mike Godson has gotten his fans and colleagues reacting to a recent video he published on his Instagram page.
In the video, Godson was seen tying a white towel and using his phone while facing a toilet mirror. Behind him is another half naked guy who was seen shutting his toilet door.
"I prayed more, said less & God did the rest," he captioned the funny video.
In reaction, Nollywood actor, Omalicha wrote, "There are some things about this video."
Ghanaian actor David Osei wrote: "This my guy wey u dey wey man dey appear for your bathroom mirror?
Sonia wrote: 'I don't want to think about what's on my mind'
Mr. Best wrote: Mr. Mike this one wey you and that man dey for bathroom together, what's up?
It would be recalled that some time ago, Mike Godson got himself entangled with EFCC (Economic and Financial Crime Commission) over the consistent fraudulent activities perpetrated with his name.
Godson for while has been lamenting at the rate scammers use his photos to scam women home and abroad of their hard earned money.
Calling on EFCC, the Imo State born movie star poured out his heart on Instagram.
" DEAR EFCC NIGERIA! My name is MikeGodson I'm an actor with the Nollywood industry.
I'm writing this open letter with tears in my eyes. Few days ago, It was brought to my notice by the chairman of the actors Guild, in the person of EMEKA ROLLAS. That a woman in America was defrauded by an internet fraudster who pretends to be me. He adviced i quickly make an entry at any police station close to me. But the truth is, I have been to all the police station in the past 2 to 3 years, reporting these internet fraudsters tarnishing my image not just as an actor but a responsible Nigerian. Some weeks ago, one of them made a Photoshoped nude picture of a white man's body with my image on it. They have stopped at nothing to convince my fans they are speaking to me. They follow me on Instagram watching my every move, lifting and reposting my videos and pictures on thier fake pages of me. THROUGH the police, I have caught, arrested, and detained some of these boys but they won't stop. They have fake pages of me every where. FACEBOOK, INSTAGRAM TWITTER to name a few. I'm going crazy, Somthing must be done to stop this madness. PLEASE! PLEASE! And PLEASE! come to my aid. This is my only verified Instagram account other accounts with my name and image are fake! I humbly await your response thanks and God bless."