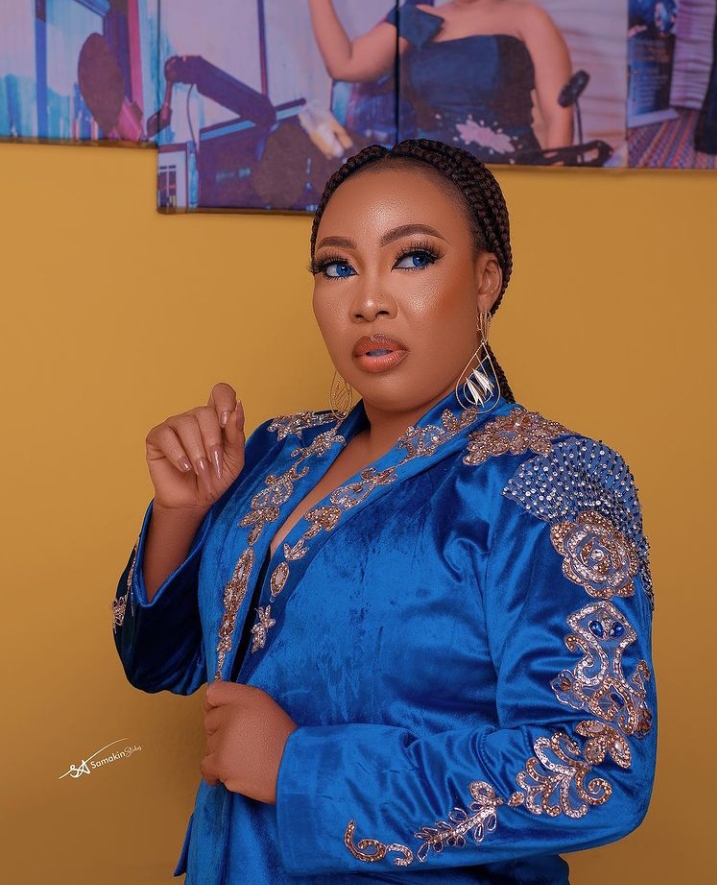 Nollywood actress Bimpe Akintunde has said she is set to be welcomed into the palace of the Ooni of Ife as a new wife, seeing that different women are now being married to the royal father.
This is coming after news leaked that the Ooni of Ife, Oba Adeyeye Enitan Ogunwusi, Ojaja II, has concluded plans to take another bride as a second wife barely 24 hours after taking in a new bride, Mariam Anako.
Nollygistvibes recalls that the Ooni officially welcomed his new wife, Mariam Anako into the palace on Wednesday, September 7th, after the completion of their marital rites, and videos from the function went viral on social media.
After his marriage to Mariam, a team of Chiefs from the Palace in Ile-Ife, Osun State, on Wednesday, visited the family of another bride-to-be, Dr. Elizabeth Opeoluwa Akinmuda, in the Magodo area of Lagos.
And not only that, popular blogger, Kemi Ashefon also announced that another woman, Omo Oba Adegoke, Aya Adimula Ashely Afolashade will also be welcomed as a wife to the Ooni of Ife Oba Enitan Adeyeye Ogunwusi in a few hours.
Responding to the information, actress Bimpe Akintunde prayed that the new woman, Ashely will be welcomed quickly so that she can welcome her in as a new wife to the Ooni of Ife in return.
"Make Olori Ashley Enter Quick, make she Welcome Me Olori Adebimpe to the Palace tomorrow, Emilokan o (it is my turn)" Bimpe Akintunde wrote.
Earlier this year, actress and filmmaker, Bimpe Akintunde better known as Wasila Coded woke up to 50 missed calls from loved ones after recounting how she and daughter escaped bandits attack on Ibadan Express road.
Bimpe Akintunde who welcomed a bouncing baby boy in 2021, had previously narrated how bandits shot directly at her on the Lagos Ibadan express way.
"God saved me and my daughter I can't believe this.Like they were shooting directly at us.Where are we going in this country? Broad day light attack. God came through for us. I turned back, followed one way and alerted other drivers too.
Just Help me Thank God for My life and That of my Innocent Daughter we are back in Ibadan Safe and Healthy but in Shock."