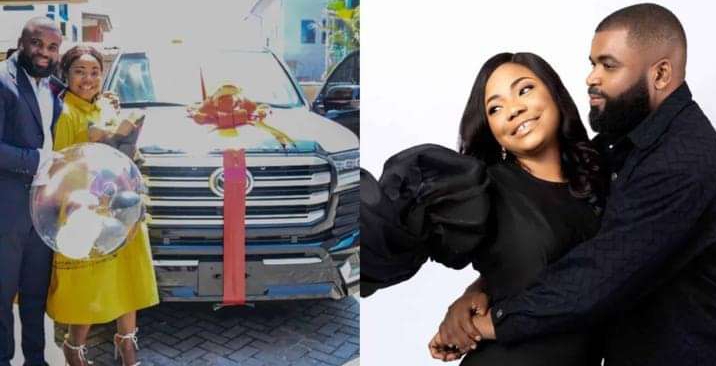 Gospel singer Mercy Chinwo, who has recently been criticized for her continuous show-off since her marriage to Pastor Blessed has now responded by shunning the different warnings and even further bragging about her man.
In a post shared on Instagram moments to mark her one-month wedding anniversary, Mercy Chinwo wrote "I can't contain my JOY and EXCITEMENT, It's One month already with my Gee, Forever to go. After Christ, the best decision I ever made. A man filled with so much grace and truth. You are the Evidence that I am indeed Blessed, I Love Love Love you SWEET"
The likes of actress Nkechi Blessing and fans hailed her for the show-off.
Nkechi Blessing wrote "I love to see it, your joy and happiness is permanent sis" while one Elizabeth wrote "God did it ma, show off congratulations"
NGV recalls that Maria Ude Nwachi, a lawmaker representing Afikpo North-East in Ebonyi State House of Assembly had issued a public warning to newlywed gospel singer, Mercy Chinwo and her husband, Pastor Blessed after the gospel singer flaunted the brand new car gift she was given by her husband for her birthday.
Pastor Blessed had surprised Mercy Chinwo with an SUV as a birthday gift and an excited Mercy Chinwo flaunted the gift on social media and urged her fans to thank him on her behalf; an act that did not sit down well with Maria Ude Nwachi.
Airing her displeasure on the act on Facebook, the lawmaker chided Mercy Chinwo for the "unnecessary show off"
"Mercy Chinwo & hubby, avoid unnecessary show on social media. Don't invite scrutiny on yourselves. Biko. Clarification: This type of show by a woman of the bible will bring nothing good for her. One investigation into their doing might bust a lot and those hailing them won't be able to help them out of it.
The investigation can come from the source and to find something no dey hard. To make displays that beg to be scrutinized is very very unwise because your subliminal request will surely be answered if you keep it up.
Nollywood actresses do these packages and it's okay but not her type. I did not post that package because I felt sorry for her as she knows not what she is doing. Allow trouble to sleep in peace, no wake am. Thank you." Maria Ude wrote on Facebook.
As if that wasn't enough, a social media user identified as Comfortable in De Place further called the attention of veteran gospel singer, Chioma Jesus to the public display of affection between singer Mercy Chinwo and her husband, Pastor Blessed.
The writer urged Chioma Jesus to admonish Mercy Chinwo against sharing full details of her marriage on social media as that would attract the attention of enemies oppressed by her happiness.
"Dear Chioma Jesus, you're Mercy Chinwo's spiritual mother. I want you to advise her to slow down on the social media show-off for now. I know she's still new in the marriage lifestyle, so the thing will be shacking her like pamy. She has been almost all over the place ever since she got married. I understand that feeling, too, although I'm still single.
So as a veteran and well-experienced woman in the marriage and music lifestyle, Instigate her to slow down as it's not everybody that is happy for her. Mama the truth is, with the way marriage dey sweet your daughter she fit go sing worldly album o.
Hold her o. She's too happy, and it radiates all over her. Judging from her recent ministrations, you could see she's now infusing her husband's name. Make she no go share God's glory with Pastor Blessed o. Na that kind thing dey make God vex o.

I know she has posted the car her husband bought for her, but please let her keep other upcoming gifts and blessings on low. The man will buy her house and other stuff but let her not get too excited with vanity and forget ministry works. The aim is to lead souls to Christ through her singing prowess and grace and not show earthly achievements thereby drawing the attention of many doubters. I hope you understand.
To us what she's doing is good at least they're giving us content but then some people are feeling oppressed. If a Davido does what she's doing, it's okay because he's a secular artiste but a gospel minister doing it, hmmm, the narrative will be twisted o. Make dem no say they're flexing tithe and offering o. A wise is enough for the word."