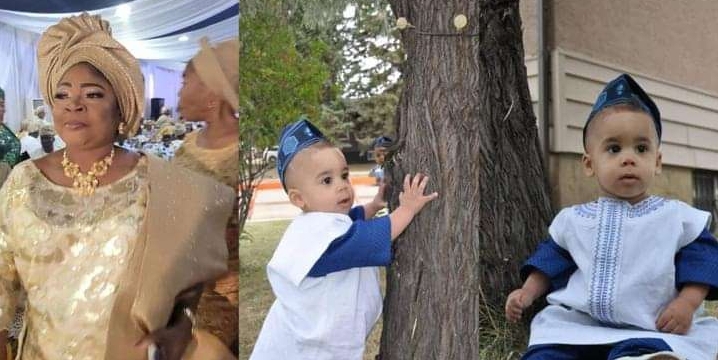 Veteran Waka Queen Salawa Abeni has proudly shown off her foreign grandson as she showers him with prayers on his first birthday.
The proud grandmother shared cute photos of the celebrant on her Instagram page, showering him with love and prayers.
Salawa Abeni wished her grandson a happy birthday, praying that God would continue illuminating his path and filling him with wisdom.
She wrote: Alihamidulilah modupe Olorun o see. this day a year ago, a king was born to my humble family AISEN ARIS OLAFEOLA ILEMOBAYO OMODOLAMU ADUFE ALABAKPARI ILORI, two days after I flew into Canada to welcome him to the world. Happy birthday my cute grandson. May Almighty Allah continue to illuminate your path and imbue you with wisdom.
Wa dagba iwo na a to omo ise for ur mum and daddy and the entire family. ANANN, AZEEM, TAI, KENNY AND ID NOBLE WISHES YOU MANY MORE YEARS IN LIFE.
HIP! HIP!! HIP!!! HURRAY 🎂