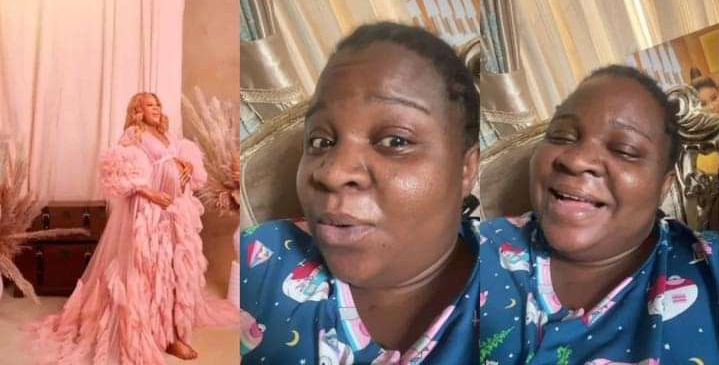 Nollywood actress and entrepreneur Bimbo Afolayan has shared a lovely throwback video of herself during her 26th-week pregnancy of her second child, Viola Afolayan.
Nollygistvibes recalls that Bimbo Afolayan and her husband, Okiki Afolayan, welcomed their first child as a couple in June 2022.
Bimbo and Okiki Afolayan christened their daughters Viola Okikoola Afolayan in the United States amidst a few family and friends.
Bimbo Afolayan shared a video on her Instagram page that captured her plumpy pregnancy body during the 26th week. Sharing the video, the mother of two noted that she had numerous videos taken during each moment of her second pregnancy, but some will remain private on her phones.
She, however, revealed in the shared video that she had endured cold, cough, mood swings and heartburns, but it was worth the whole journey.
She wrote: "Throwback to March 7th 2022, when I was 26weeks pregnant with @violaafolayan.
Too many throwback videos wow 🤩
Some that won't make it to the internet but am grateful to GOD!
"my body did it again the second time ✊
With all the whole cold and cough,
Mood swings and heartburn….. it was worth the whole journey !!
"To all pregnant women out there, safe delivery, mate and to everyone looking for such blessings by God's Grace, it will happen soon, amen 🙏
"By far, women are number 1 forever! Argue with your keypad ✊✊✊ I will cherish my mum for the rest of my life sha ni."
Nollygistvibes recalls that Bimbo Afolayan wrote a sweet message to commemorate her daughter's 9th birthday, stating she has brought her so much joy and happiness. She is joyful because she is intelligent and kind.
"Today is all about my first daughter Aliyah Omotoyosi Babatunde, the apple of my eye and my womb opener 9yrs ago. You came into our world with so much light! You became the light of my life! You have brought me so much joy, and I thank God for blessing me with such a
beautiful, intelligent, smart, and kind daughter. You are the most reasonable, independent, contended little gem I have ever seen keep growing in God's GRACE! For everything, you are mama's joy, and I pray to GOD to bless me and strengthen me to always be there for you omomi. May all your dreams come through, my pilot!
Happy birthday my butter Cup 1."