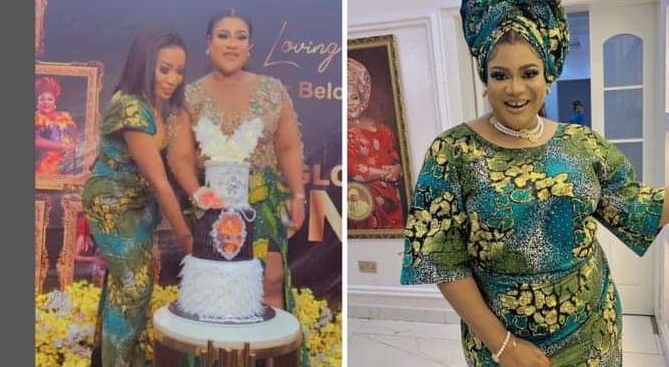 Actress Nkechi Blessing Sunday has stressed that she is a bad girl but not as bad as some other humans in her line of business.
Speaking moments ago at the one-year remembrance ceremony of her late mum, the controversial actress went on to dismiss the viral reports that she has a politician or sugar daddy bankrolling her, owing all her wealth to her hard work.
"Despite being raised in a bar parlor, i turned out well, it is believed that bar parlor girls are bad…well, I might be bad but not that bad, I am bad and good, regardless of what you hear about me from the media, those who know me and are close to me know I am the best person you can have in your corner…God punish any politician they say is sponsoring me, all I have is by my hard work…I may not be a billionaire yet but I am very comfortable and I am not begging to eat, my mum is the sweetest woman I know and I will keep remembering her till I die"
It was recalls that Nkechi Blessing penned down an emotional tribute for her mother as she recounts how she has been working day and night to ensure her mother does not beg for food.
In a post shared on her Instagram page, Nkechi Blessing said if doctors had requested money to keep her mother, she would have begged the world to help her.
However, her mother only complained of stomach aches, and the next thing was death. Nkechi Bless, who is still in denial of the sad incident, wondered how she would face the world with her mother.
According to Nkechi Blessing, she had built a house for her mother as a surprise birthday gift, but sadly she left without seeing it.