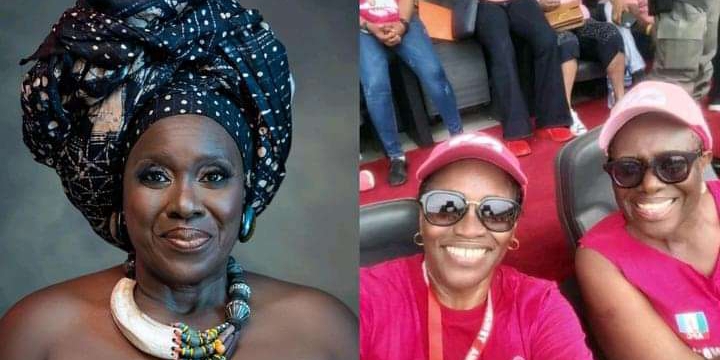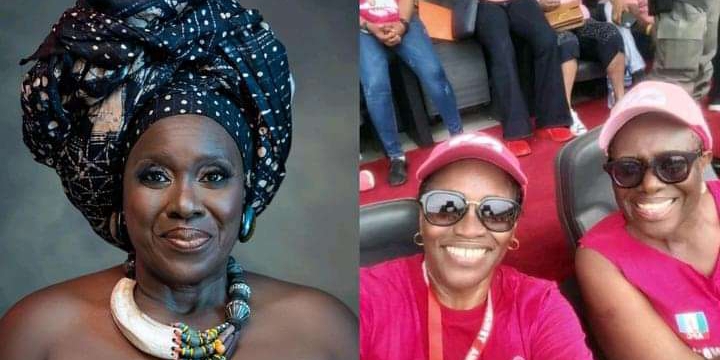 Nollywood veteran actress, Joke Silva is currently trending on Twitter after she attended the women's rally in support of APC's Presidential candidate, Bola Ahmed Tinubu.
NGV reported that Nigerians expressed disappointment in their favourite Nollywood actresses after their names appeared on the Tinubu/Shettima Women Presidential Campaign Team which went viral on 1st October 2022.
The rally which kicked off today at Tinubu Square in Lagos State saw celebrities, market women and professionals from various fields wearing t-shirts with APC's logos and inscribed words.
Mixed reactions have however trailed joke Silva's support for Bola Tinubu. While some netizens note that they are pleased with the fact that she came out with her full chest to support her candidates, others questioned her moral justification and asked where she left her ailing husband, Olu Jacobs.
See comments below,
Mackie wrote: "Joke Silva & Funke Daramola did not leave their houses to walk under this scorching sun for free. E sure me die!"
Yomi wrote: "She's a legend and we respect her but ain't nobody voting someone cause joke silva said so. The streets don't follow her like that".
Harmony wrote: "So Joke Silva left Olu Jacobs to come and walk under the sun for someone she's stronger than for free?
That woman smart pass dat one. Lagosians, Collect your money".
Mark wrote: "She need money for olu treatment. Joke Silva if all is well will not support BAT"
Uche wrote: "I hope we won't be tempted to say foul word or insult Mummy Joke Silva for supporting Tinubu? Let's show restraint please".
Chidubem wrote: "This is Joke Silva, a popular Nollywood star coming out with her full chest to support Asiwaju".
Harydo wrote: "I just saw Joke Silva's post supporting APC and marching for Tinubu.
Whilst everyone is free to vote who they want, that shit hurt me man".
Nene popo wrote: "She has a right to vote who she wants but I am disappointed. Seeing how we have suffered as a nation, it is well".
Berry wrote: "So disappointed. Always thought otherwise of her".
Sunday Presido wrote: "Now ya all should choose your role models wisely, the ones that will choose greed and the ones that will choose truth and transparency. For Mercy Johnson I'm not shocked, sis a drug addict and she grew up banging her way into nollywood; joke silva is a lagosian.Count the cards".
June 12 baby wrote: "I Seeing women like Foluke Daramola and Joke Silva, marching for APC, totally raised the bar of disrespect I now have for them. Yeyebrities".
Oge wrote: "Joke Silva de campaign for her pocket. You campaign for your future".
Nupe lawyer wrote: "Mummy Joke Silva could not open her comment section on instagram for posting her pictures and video campaigning for Tinubu. The fear of children of vileness is making people not to exercise their rights freely".
President Eniola Dan wrote: "Joke Silva has pitched her tenth with Bola Ahmed Tinubu. At 61, she has nothing to lose. All she wants is retirement benefits and Nollywood can't give her that. Mama is old and she may not be looking forward to achieving anything spectacular. It is what it is".