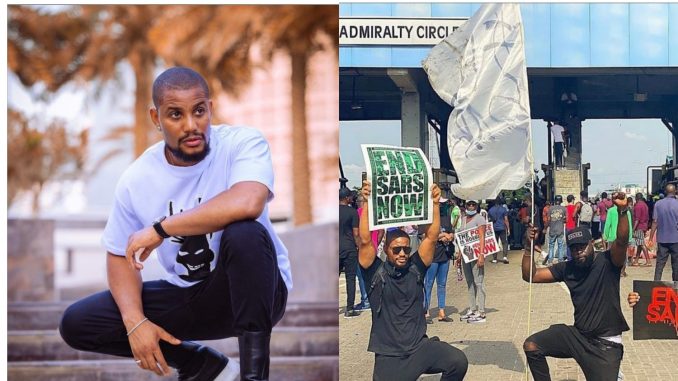 Today marks a very tragic day that Nigerians will forever remember and respect because on this notable day, the blood of our heroes, families, friends, husbands, wives, and children… were sacrificed for the growth and eradication of corruption in this humble country. As such, Nigerians including some Nollywood actors have come out at large in honor of our innocent Nigerians who lost their lives. One actor was spotted holding the precious flag of this nation and another holding a protest postcard where 'END SARS' boldly written on it.
See the picture below: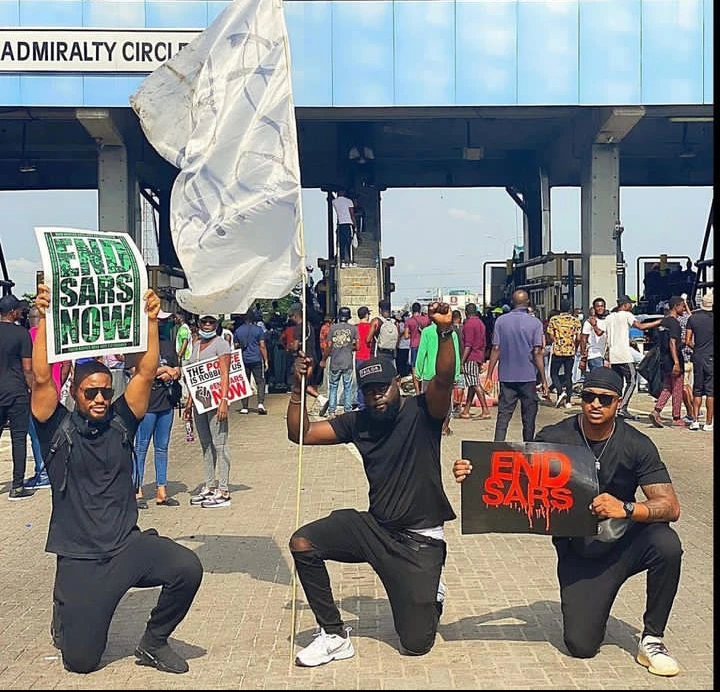 One of the popular Nollywood actors is Alexx Ekubo, and he has taken out of his precious time to upload a picture of their outing today via his Instagram official handle for his fans and the world at large to see and remember this remarkable day.
While uploading this picture online, he added an emotional caption where he told the Nigerian Government that Nigerians at large will never forget a day like this, adding heartbreaking emoji that represents the flag of this country.
He wrote:
"Dear Nigerian Government, we will NEVER forget this day.
20 – 10 – 20 💔
We will return the favor. The Labour of our heroes past shall never be in vain. I still maintain that Lekki Toll plaza should be renamed Lekki Memorial Way & remain toll-free forever.
We paid in full with our blood. Aluta Continua, Victoria Ascerta. #EnoughIsEnough #SoroSoke #EndSars #ReformNigeria #EndSarsMemorial 🇳🇬🇳🇬🇳🇬."
However, a few minutes after he posted this picture and caption on his page, Nigerians have taken to the comments section of the post to react effectively and below are some of the screenshots showing people's reactions: