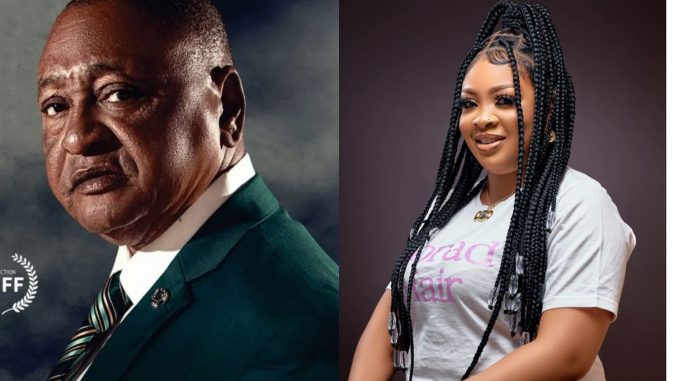 Nollywood actor Jide Kosoko has penned a touching birthday message to his beloved daughter, Bidemi Kosoko.
The actress turns 36 today, October 21st.
In his birthday message to her, the veteran spitted his other children, as he described Bidemi as his source of joy.
He recounted how she brought immense blessings to him, the day she was born.
The actor revealed that Bidemi was born, the day he received an award from Yoruba community in Brixton, UK.
He noted how they all prayed, dance, and celebrated her birth.
"Congratulations and jubilation in my family as my baby @bidemi_kosoko turned 36 years today. Happy birthday Abidek, Omowunmi, wa dagba, wa dogbo ninu ola ati alafia. You have always been my source of joy. I remembered on 21/10/1986 as I received an award from Yorba Community in Brixton UM and the MC breaked the news, announcing your birth in Nigeria. We prayed, and dance, celebrating your birth. Olorun a wo e, a wo Omo ati awon omo e. You are a true actor, I am proud of you".
Sola Kosoko celebrates Bidemi Kosoko at 36
Her elder sister, Sola Kosoko had said a powerful prayer on her sister, Bidemi Kosoko as she turns 36.
To mark her sister's birthday, Shola took to Instagram to say prayers on her sister.
"Happy birthday to my darling beautiful sister of life. Mama IRE, Mama IKE. Wa gbo. Wa to. Lasa Edumare. May the wind of God's Favour blow in your direction now and forever. Your little efforts will bring unusual and great success. God will give you ideas that will single you out for success".
Jide Kosoko rejoices as Bidemi Kosoko welcomes baby girl
Nollygistvibes recalls that Bidemi Kosoko had welcomed a baby girl in May, 2021.
Her father cum Veteran actor, Jide Kosoko was the happiest man following the safe birth of another grand child from his daughter and actress, Bidemi Kosoko.
Jide Kosoko announced the birth of his granddaughter via Instagram, where he asked Nigerians to rejoice with him and also pleaded that she should be remembered in prayers so as not to have any after-birth sickness.
"A big congratulations to the Kosoko and Bankole Family, as Abidek gave birth to baby girl this morning, an addition to my grand children. Join me in thanking God and prayer for mother never to witness after birth sickness. Thank you my people." Jide Kosoko wrote.