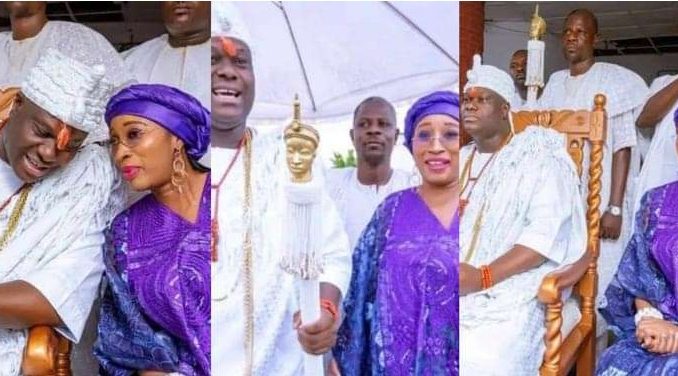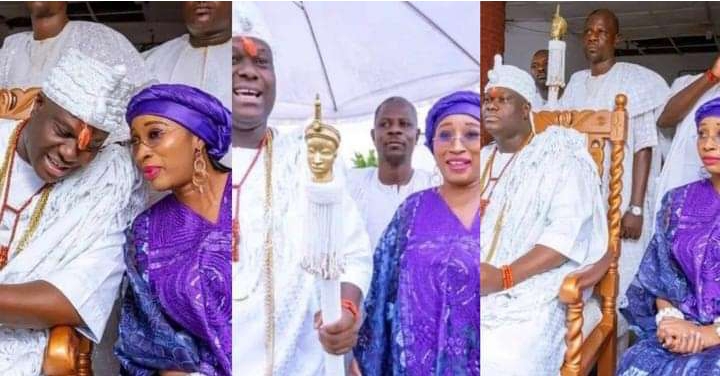 The Ooni of Ife, Oba Enitan Adeyeye Ogunwusi recently stepped out in style with his fifth wife, Queen Aderonke Ademiluyi-Ogunwusi.
The Yoruba monarch was spotted at an event over the weekend with his fifth wife.
The Ooni and Queen Aderonke had attended the Queen Moremi Initiative, which Queen Aderonke is in charge of.
The royal couple were the centre of attention as all eyes were on the newly-wedded couple.
This would be the first time the Ooni would he seen with his fifth wife.
Ooni marries fifth wife NGV news reported that the traditional wedding of the Ooni of Ife, Oba Enitan Adeyeye Ogunwusi Ojaja II and Princess Ronke Ademiluyi held on Thursday, October 20th.
Osun State was on a shutdown as their Monarch tied the knot for a fifth time.
Photos and videos from the traditional wedding ceremony made it way to the internet.
In videos circulated online, the beautiful bride could be seen entering the hall in grand style as the Ooni's chiefs asked for her hand in marriage.
As with his previous weddings, the Ooni was nowhere in sight.
The royal guards and maids, palace chiefs and royal staff were there to represent the Yoruba monarch.
Ooni's fifth wife
Princess Ronke Ademiluyi, who is the 5th wife of the Ooni, has known the King before he ascended throne in 2015.
The London trained lawyer is a very well known entrepreneur who shuttled between the UK and Nigeria. Ronke is the founder of the popular fashion showcase platforms, the AFWN & AFWL franchises. As a prince then, the now Oba Adeyeye Ogunwusi's company, was one of the major sponsors of the 'Africa Fashion Week Nigeria' the fashion showcase platform founded by Princess Ronke Ademiluyi, who is a single mother of one. As a princess in Ile Ife, Ronke's great-grandfather was Ooni Ademiluyi Ajagun.
Moreover, she is in charge of the Queen Moremi Initiative; a global ambassador and founder of the Adire Odua. Her wedding to the Ooni comes up three days after his 48th birthday on October 17.