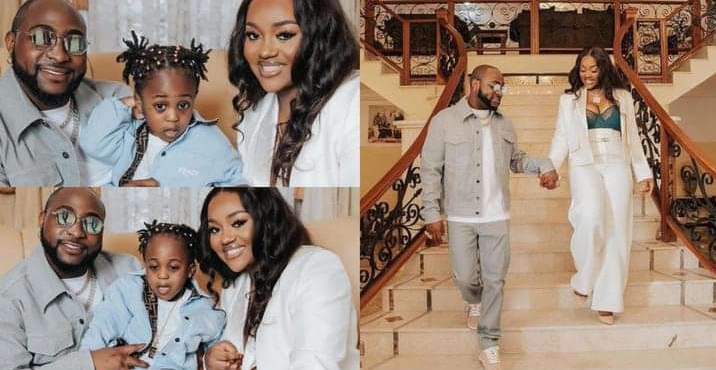 Emotions have been high over the rumored death of Ifeanyi Adeleke, son of popular music artiste, Davido, and his fiancée, Chioma Rowland.
Details of the circumstances surrounding Ifeanyi's death were still sketchy as of the time of filing this report.
However, unconfirmed reports hinted that Davido's first son drowned in a swimming pool at his residence in the Banana Island area of Lagos State.
A source close to the family stated; "The boy was inside water for too long and they pulled him out and rushed him to the hospital," the family source said under anonymity to await an official statement.He was rushed to Evercare Hospital in Lekki where he was pronounced dead on arrival.It was further gathered his parents, Davido and Chioma had traveled for a family gathering to Ibadan yesterday and had left Ifeanyi with his minders who can't explain how he entered the pool without being noticed and drowned.A distraught Davido has been removed from Evercare Hospital, where his son was pronounced. The singer is currently at his father's house.
Following the sad news, social media has been thrown into mourning as many hope and pray for a miracle.
Celebrities mourn Davido's son

Many celebrities took to their Instagram pages to bade the young lad goodbye.
Iyabo Ojo wrote, "I don't even know how to react to this rude shock. I was hoping it wasn't true. My God!! This is so shocking, sad, devastating, & extreme painful. Olorun!!! Ikun le abiamo ooooo. Noooo.
Ayo Makun wrote, "The death of a child is unnatural, unfair and tragic. This hits me so bad.
Helan Paul, "Painful!! Never again. Please God. We reject it oh God. Please…. Restoration.
Actress, Semilore Pweety wrote, "God forbid!!! It will never be that baby portion IJN!!!! Amen
Actress Omo Borty wrote, "If this is true, October you no try at all. Sleep eludes me. God of last minute miracle, there is nothing you can not do. Please prove yourself now oh Lord. You have done it before, please do it again. What God cannot do does not exist!! Please do this one God
Sandra Iheuwa wrote, "God abeg oo. This October I just don't understand…why? Why? Why? Too many loses.
Regina Chukwu wrote, "This was not the news I planned on waking up to in the first day of this new month. God abeg oo. May we not bury our children.
Reactions
Lasisi Elenu wrote, "Father heal your children's heart from thjs pain, strengthen them in such a dark and hurtful time oh Lord!!
Angela Okorie wrote, "This is unbelievable. God please
Actress Susan Peters wrote, "I don't want to believe this. This is too much, the thought is killing enough. God I don't want to believe it's true. I hope and pray. It's no true.
Jide Awobona wrote, "How can I wake up to this on the 1st of Nove. I pray he's alive as I've been seeing.
Femi Adebayo wrote, "This is so heartbreaking. In as much as we find it hard to come off this shock, yet we submit to the will of Allah. My prayers with David & Chioma and the Adeleke's family.
Bimbo Thomas wrote, "Haaaa Olorun joor ma fi iku Oma Sha adanwo fun was o, this is too sad. My faith can't carry it o olorun joor
OAO Nedu wrote, "He that sees the end before the beginning will give your family all the strength needed to hear this loss… This is the hardest thing a parent can go through. May God heal your hearts".