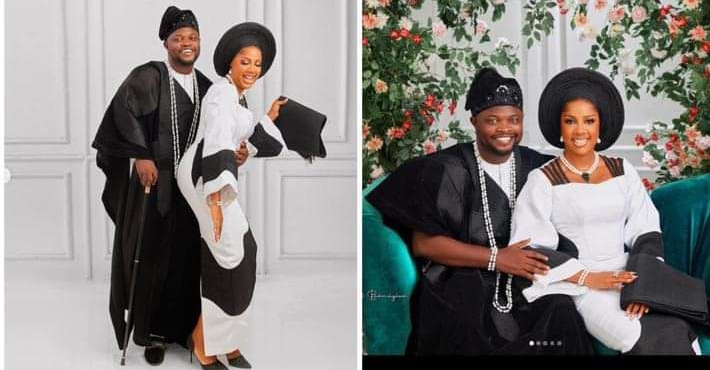 Nollywood actress Seun Osigbesan, who is well known for playing the role of Jennifer, in the popular TV series, The Johnsons is marking her 10th wedding anniversary today.
The mother of two has shared beautiful photos from the anniversary shoot and penned the most beautiful wedding anniversary message to her Pastor husband.
"My sweet and loving husband. Today marks 10 years since you paid my bride price
You are such a fantastic husband to me and an amazing father to Jeffery and Charlotte.
I say this to you with all sense of pride that being a pastor wasn't what made you a good husband
Rather, being a good husband is what made you fit to be a pastor and a great leader to the people of @gracemadeng ~ 1Tim 3:5
And I am extremely proud to be your wife because you never made me regret choosing you…..not for once in 10 years!
You are a man of great wisdom and following you has been one of the best decisions I ever made in my entire life.
I love you baba mi.
Congratulations to us on our 10th 'adversary'
Tomorrow is 10 o'clock!!!"
Acknowleding her message, her Pastor husband, Seun Osigbesan wrote "God has been gracious and merciful to us.
On this day 10 years, we came to pay the bride price and I honestly think I still need to pay some additional bride price because what I got is far much more than what I expected.
You are not just very beautiful but you are a multi-dimensional woman that keeps evolving, I sometimes wonder how to play each of the roles you play so well ( actor, author , wife, pastor's wife, film maker, mother and so much more )
You are an amazing woman and you are apparently a precious gift to me from God.
You mean the world to me baby and I will choose you over and over again.
Congratulations to us on our 10th 'adversary'
Tomorrow is 10 o'clock"