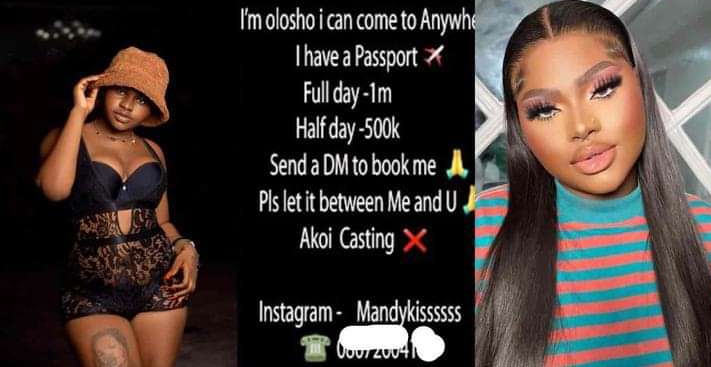 Mandy Ayomiposi, well known by her stage name Mandy Kiss, is a well-known Nigerian content creator, comedian, model, and self-declared Oloshos leader.
Mandy Kiss, or President of Oloshos as she prefers to be known, is one of the country's rising brand influencers. She became well-known after obtaining a tattoo of Naira Marley's face on her lap.
Mandy Kizz Unveils A Surprising Revelation that She's Available for Hookup.
She Wrote Why Sharing The Post On Instagram That I'm Olosho I can Come to Anywhere!. I have A Passport.
She then give the description of her service .
Full Day 1m.
Half Day 500k.
Social Media Reaction;
@Cee_One_gram Wrote: Mandykisssses every thing na time my only advice for u is dat go and repend before time go check you
@Horla.cash12: You get levels pass all this stuff wey u wan de use trend aswr u wey de chill with naira Marley before now all of them don cut you off u still no wan get sense we'll time shall tell whether na cruise or na mumu we go know
@Young_pad1:So if I wanted to waist 1m nah u I go come carry, wen ah no mad
@pincode_11:No need casting , we knew you already back in Ede no be today .