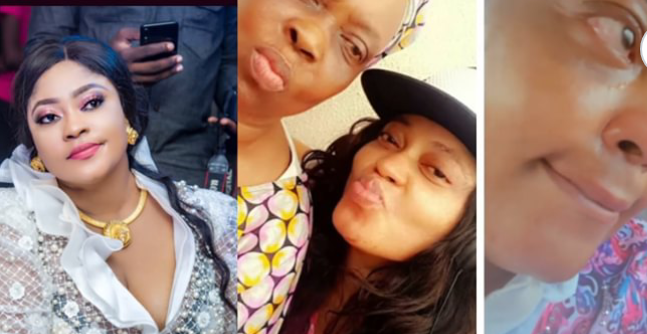 Nollywood actress Biodun Okeowo popularly called Omoborty has taken to social media to plead with her fans and colleagues to say to a word of prayer to her mother as she remembers her death and burial.
In the post shared on her Instagram page, Biodun Okeowo noted it has been two years since the demise of her mother but the memory is still fresh and new.
According to the actress, she wakes up everyday with pains and tears, however she is aware that no amount of tears can bring her back.
She wrote:
Please say a word for prayer for my mom.
Mummy You were laid to rest on this very day two years ago.
It's so fresh like it's new. The pains no relief or anesthesia can kill. I wake up to it everyday and it still feels so fresh even as time goes by…. I know No amount of tears can bring you back, but you are worth more than zillions of my tear drops. Tears won't bring you back mama but it does help relieve the pains….continue to Rest In Peace my dearest mother. I'll always cherish you.
Nollynaijanews recalls that the curvy actress recently took to her Instagram page to pay tribute to her mother, who died two years ago, expressing how she felt on her mother's remembrance day.
The actress said her mother was a gem to behold to her children, grandchildren and everyone she met and related with.
Omoborty also described her mother as a woman who gave out to many people and little to herself even when she does not have much.
Expressing love for her mother, she revealed in loving memory to honour a priceless human. She would like to build a water source for a community that needs water in her name and feeds thousands of people in her honour.