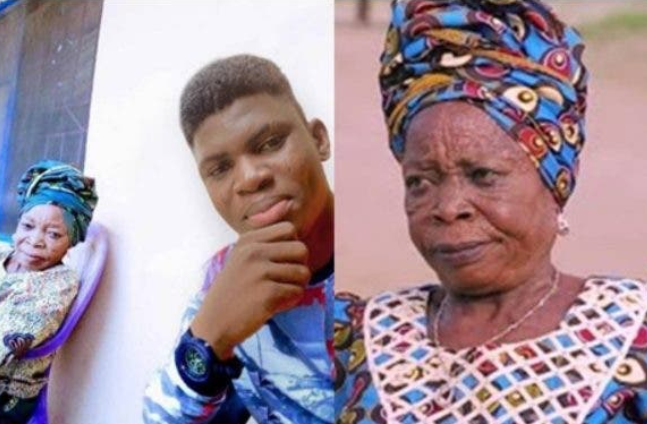 Asiwaju Lerry took to social media to reveal that Yoruba actress, Margaret Bandele Olayinka popularly known as Iya Gbonkan is his grandmother.
His revelation has drawn massive reactions on Twitter.
The young man took to Twitter and shared a photo of himself with Iya Gbonkan and introduced her as his grandma.
The actress is known for her recurring role as a witch in Yoruba movies, so because of this, many netizens started apologising to Asiwaju seeing that they are related.
The young man captioned his photo: "Hello Twitter NG, my grandma says Hi."
Some facts you need to known about Iya Gbonkan
• Her real name is Margaret Bandele Olayinka.
• She undertook her first Performing Arts training under the mentorship of Duro Ladipo. During this period, performances were basically delivered on stage.
• Iya Gbonkan emerged into the film conversation in the early 70s featuring in the IFA OLOKUN's TV series by Yemi Elebubon.
• Her father was a trader in Ibadan and she is also the only child her mother had for her father.
• After fleeing from her hometown due to series of maltreatment from her father's relative, she came to Ibadan where she served as a housemaid. She was employed as a maid in Ibadan with the knowledge of her father.
• She is from Otu, Itesiwaju local government in Oyo state. In addition, her mother is a native of Iseyin in Oyo state.
• Iya Gbonkan got her major breakthrough in the productions of Yekini Ajileye.