Popular Nigerian actress, movie producer and entrepreneur, Jaiye Kuti who is also known as Jayeola Monje has claimed that she was visited by the spirit of late Nigerian pastor and televangelist, TB Joshua.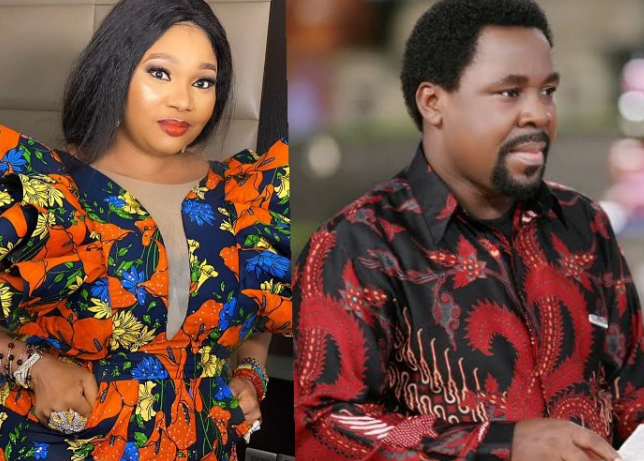 In a post on her official Instagram page, the veteran Yoruba movie actress explained that she never met with TB Joshua when he was alive but she was visited by his spirit after his death.
Narrating how she met with the spirit of the well-known Nigerian preacher and humanitarian after his death, Jaiye Kuti said she was alone in her room at Offa (a city located in the Kwara South Senatorial District of Nigeria), her head was swollen and she saw what she referred to as a "gentle pass" of the late TB Joshua. There was something good about his soul, according to her.
See her post: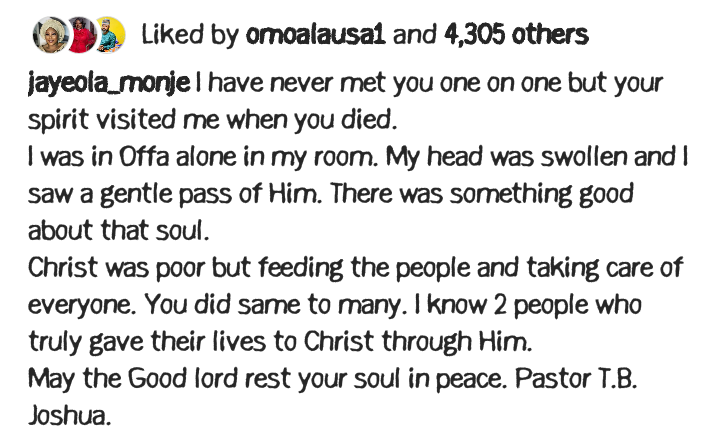 Actress Jaiye Kuti also compared TB Joshua's lifestyle to that of Jesus Christ when he was on earth. She said that Jesus Christ was poor but he feeds people and took care of everyone, and the late Nigerian pastor did the same thing.
She also mentioned that she knew two individuals who gave their Christ through the TB Joshua.
Jaiye Kuti did not make it clear whether she met with him literally or figuratively.