Popular female gospel musician, Evangelist Tope Alabi has sent a message of appreciation to her fans, thanking them for standing by her in the past one week.
The appreciation is coming days after Tope Alabi was seriously criticised on the social media for condemning Oniduromi, a song by another gospel musician.
See post;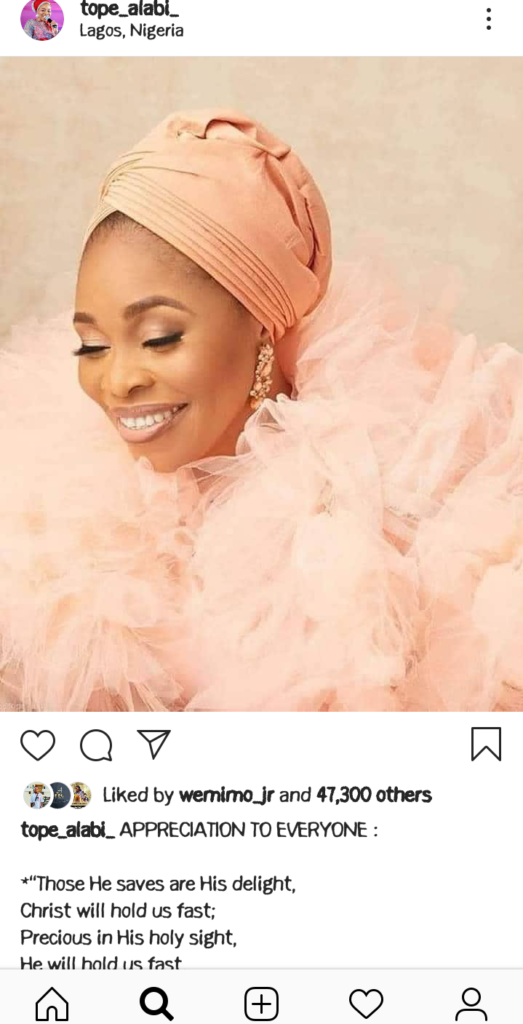 Alabi said the song was not good enough, saying God is not her own guarantor.
This generated anger and heavy criticisms from people across social media platforms.
Many accused Tope Alabi of being envious of Yinka Alaseyori, who is seen as the 'promoter' of the song, Oniduromi.
As the dust raised by the matter begins to settle, Tope Alabi came out on Sunday morning to show love and appreciation to her fans.
In a statement titled, "Appreciation to everyone", Tope Alabi said, "I register my unreserved appreciation to you all for standing by and for me through the past week. The Lord will never leave us all in Jesus name. Thank you all and may the good God bless you all in Jesus name. I love you all."
It was observed that the appreciation message from Tope Alabi gladdens his followers as they register their satisfaction in the comment box.
They have once again declared how much they love the singer and her songs.
One of them, Queen Omolola, said: "Almighty God has intervened. That well constructed APOLOGY settled the matter. If our God can forgive how much more we human. Assume your leadership position in the gospel music forum with prayers and absolute humility. Follow peace with all men. Protect your brand because no talent is irreplaceable. Love your fans and never take them for granted. It is Grace of ALMIGHTY GOD upon your life that make people even listen at all to your music. Never, never get your fans angry. Avoid scandals and GO DEEPER into research into the scriptures for better production. Consult elders in the line; Mama Bola Are and Mrs Fasoyin. Try a collaboration with them. Be much more spiritual and not worldly in your presentations. I am praying for you, Sister Tope; pray for me also. We are more than conquerors in Christ Jesus. I love you with agape love. More grease More grace. More oil."
Dammy Emmannuel Obis also said, "Glory be to God. Thank God for the timely apology. God surely wants you to learn a lesson from what happened. Both those that criticised you and those that defended you surely enjoy your ministration of songs. The body of Christ is the same and should never be put asunder. God bless all gospel artists ministering to our souls."