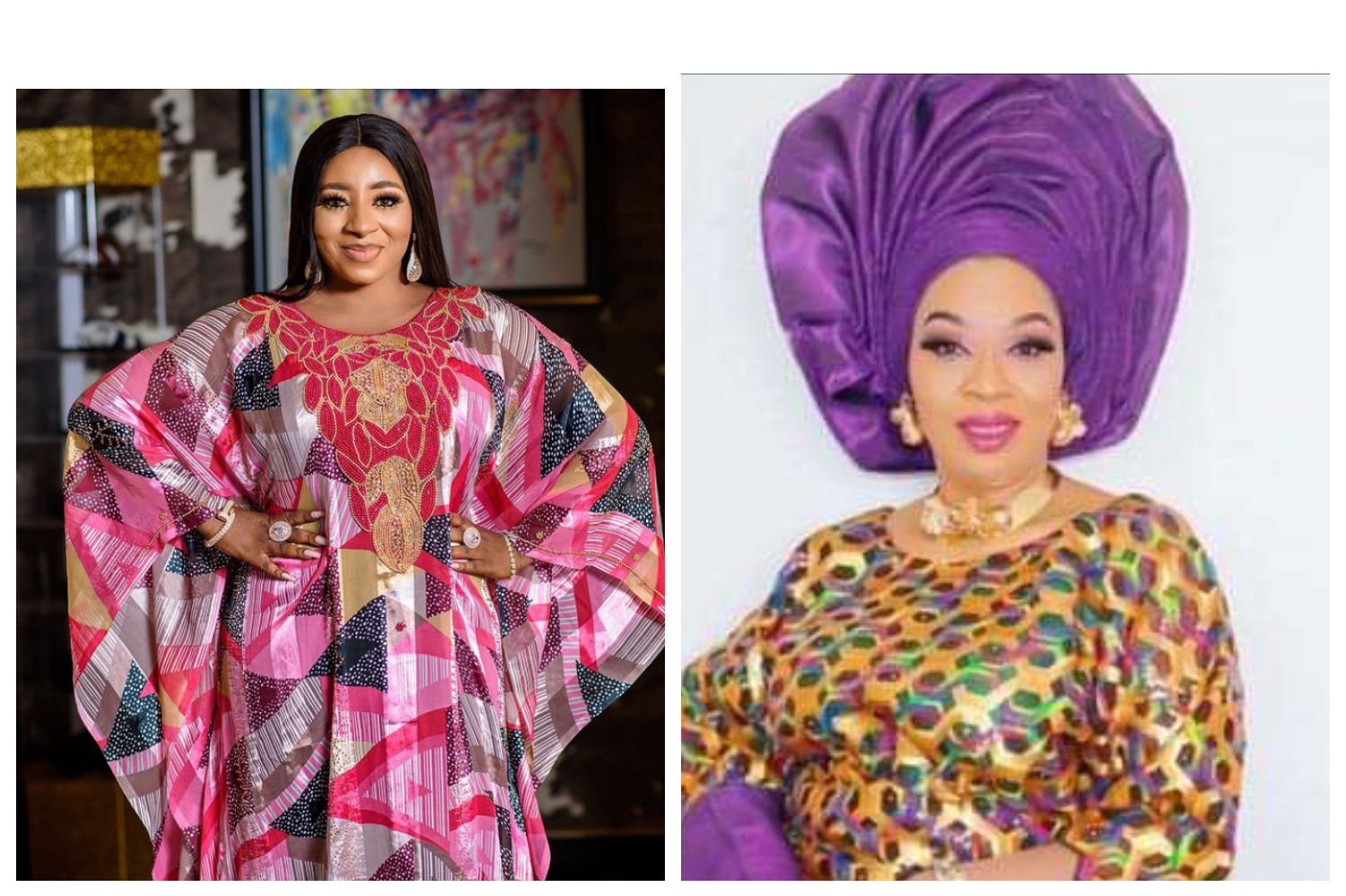 A U.S based veteran actress, Aderonke Ajenise Oduborisa popularly known as "Ashabi Olorisha" recently renovated the grave of the late actress Funmi Martin and called out media, through a video she shared on Instagram for abandoning it.
According to her "whenever I share something on social media please don't contest it. I am not a rude person but very humble and people close to me can attest to that. And I give people a long rope before taking action on issues. I wouldn't want anybody to say rubbish about my post on social media, and that is because I don't rubbish people's posts on social media. I will rather just keep quiet and ignore.
When I went to Nigeria, we did late Funmi Martins 19th Year Remembrance and I posted it on social media, a lot of people were complaining about the state of her grave. When I got there that day, I was moved to tears with the way things were that day but because I just finished shooting my movie and I had just 3 days more to spend in Nigeria before going back to the U.S and people know what it takes to travel to Nigeria. The experience is always much and demands from almost everywhere. If you are not careful, you will end up borrowing money to go back. So I couldn't do anything but it was really painful to see her graveyard like that because I know one day, I will die too. Irrespective of what we have we will all die someday. So, I came back to the U.S. and worked so hard, the first week I got to the U.S, I sent money down to Nigeria for the place to be renovated. I couldn't stand seeing her graveyard like that. I read all manner of comments on social media, where people complained about the state of her graveyard, that her so-called friends and family couldn't do anything. And I said it has to be done.
Her poor son was crying and it was renovated. When it was shattered and scattered you saw it on social media, now that it is renovated you should also know. Or do you want us to wait for Mide who is waiting for her late mum to be 20 years in the grave before renovating it? Am I expected to wait for someone who wants to do 20 years remembrance party, do you even know if I will still be alive by then?
So, do I need to wait for all that? If you know the late Funmi Martins you will go the extra mile to do things for her. If you love the late Funmi Martins, you will love everything that has to do with her, most especially her late son Damilare Peters because he didn't experience any motherly love. He only sucked his mum's breast for 41 days.
Mide said it publicly, she has plans to renovate her mum's grave when it's 20 years remembrance. 20 years of remembrance to repair and renovate your mother's grave?
A lot of people reached out to me that I should call her personally and talk to her and not make it a social media thing, so she can pour out her mind to me, so I took it upon myself and called her number severally, she didn't pick up. when I was in Nigeria, I went to her Uncle's house, Baba Deji's house, we called severally, she didn't pick up. It got a stage, she switched off her phone. Today some people have pleaded I call her, I have called again 5 times, she didn't pick.
Aunty Lola Idije can bear my witness because I told her about the issue and she told me to call her. I called again, her phone was switched off they said maybe she is on set, so I waited till night, I called again.
She didn't pick before I did this video. I am happy about one thing she has two girls. Nothing bad will befall them but whatever you sow, you will reap. I don't do things to show off people close to me knows that.
So for those saying rubbish about the video I did, if Damilare a child that was just 41 days old when the mum died can say "oh I wish I have money to renovate my mum graveside, I shed tears when I heard it and just to make him happy, I worked and sent money down for it to be done.
When Damilare's issue came up on social media, many were asking about Funmi Martins friends. Yes, we are alive but Mide made everybody believe all was well with him until recently when we realised it's not true. Mide Martins blocked her younger brother for years and only unblocked him in February when his issue came up on social media.
She blocked him for asking for money to write WAEC Exam because he kept calling her for assistance. Baba Deji who was taking care of Damilare also has a son, and they were both supposed to write WAEC together but he couldn't afford to pay for the two of them at the same time, that was why Damilare kept calling Mide for help and she blocked him. Due to this, they had to hold them back for one year before they can continue with education.
Eventually, when Damilare asked Mide the reasons for blocking him for years because of WAEC fees, she said, he doesn't know what she was going through too.
There is nothing to hide about Damilare Peters, Mide Martins, Shina Peters and Funmi Martins anymore, for those saying it shouldn't be a social media thing. Nobody is trying to bring Mide Martins down because God is watching and will judge everybody accordingly.
Except if Mide Martins didn't suck Funmilayo Anike Oguntomi Martins breast, except if Funmi Martins actually deserves this treatment from Mide, whatever we sow today, we will reap tomorrow.
I don't know what Mide is counting on, maybe spiritual or diabolical that she is misbehaving like this to her late mum. Even her father is still alive, she doesn't care about her parents and even extends the hatred to her younger brother Damilare such that the boy was begging her for assistance and she blocked him.
I have all the recorded voice notes with me, if she says I am lying against her, let her come out and say it.
When the time is right I will post all the voice notes. She blocked him completely from any access to reach her for many years. I didn't believe it until I listened to the voice note myself.
Let her come out and say why she is avoiding her family members. Just recently a movie producer wanted to shoot a movie. This her Uncle she is avoiding lobbied and got a role for her, he even gave them her number so they can reach her. Eventually, she was contacted, and the producer decided to shoot a scene using that her Uncle's house. Immediately she realised it was her Uncle's house she would shoot, she said she won't do the job again and would go away with their money. They had to go and look for another location for her.
This man in question is her late's mum immediate younger brother (same parents). So what is the problem? Let her come out and say it. The same man that has been taking care of your younger brother for many years.
You refused to shoot in the same house you once lived in, and was even fed there. If you are saying your Uncle has offended you, what about your late mum, yet you are already saving up money for 20th Year Remembrance, with plans to call Kwam 1 to come and play.
This case has become a social media case, and some people were even like, that I am complaining and people should check my mother's graveyard.
Let me tell you, for those who don't know.
I am from Ikorodu, I am not making mouth. I am a Princess where I came from. My grandmother was a Princess, I am from the royal Ladega family in Ikorodu, so please go and do your findings very well. Go and check out where my mum was buried, then you will know what I am talking about. The child my mother adopted always takes care of my mother's graveyard. He only calls me and asks when money is needed and the work is done. It is what you sow, you will reap. All my siblings are abroad and he always ensures the graveyard is clean and properly taken care of.
When I am ready for Mide, on social media, she will be miserable. I was told to talk to her but she is too arrogant and full of herself. Anytime I fall sick, I always pray to God to spare my life for the sake of people that I will still help in life. Bless me so I can help people and God has been so faithful, so please if you want to contribute to an issue, be very mindful of what you will say.
Do you pray to have kids or children that won't take care of you when you grow old? Ask Mide Martins how many times she visited her grandmother, ever since her mother died.
God gave that woman grace to take care of Damilare for a while before Mide's Uncle went to take him away from her, knowing fully well, she is old and needs care too. For as many supporting Mide Martins with her deeds, I pray Almighty God bless you with a daughter like Mide Martins, or your sons will marry a girl like Mide Martins. A girl that cares for nobody in her family and abandoned her family. When she was growing up her late mother's family contributed to her upbringing but she abandoned all of them, so let's call a spade a spade. I am not scared of death, I only pray not to fall sick and go through pain before death.
Once I stand by the truth, I will be happy and pleased with my life. I told my child when I die, all the money that will be wasted on the burial ceremony should be used on something else, instead, I should be burnt into ashes and taken away. Use the money to reach out to the poor.
Whatever it is we sow in this life we reap, Mide should know that. Why is she looking down on Damilare, that he can't amount to anything in life, forgetting she is not his creator. Right in front of her, God will bless Damilare. Nobody knows tomorrow. Except if Funmi Martins did anything bad to Mide, that is when Damilare Peters will not amount to anything in life, but if that is not the case, by the special grace of God, Damilare will amount to something in life and his enemies will be put to shame, right in front of Mide.
God will bless Damilare.
The boy has been through a lot in life, no matter what, nobody can take his mum's place in his life, people can only try.
He misses his mum a lot and lacks motherly love. Last week, he was really down, we need to start watching him. He almost committed suicide. We will still talk about that issue soon. I am still giving that person a long rope.
God will punish all of you speaking rubbish and supporting evil. You should know if I can do all this for someone I call my sister and friend, I must have done more of that for my parents.
I don't do things for the gram while my mum suffers in penury. When my mum was alive, she had lots of shops on the Island. She enjoyed herself more than her children, that applies to my father too. Even after her death, I still always do the needful, so be careful about your comments in my post. I pray once again that God will bless those of you saying rubbish with a daughter like Olumide Martins, and if you are done with bearing children, you will have granddaughters like Mide Martins, so you can have an idea of what Damilare Peters is going through. Let assume that Mide Martin's Uncle (Baba Deji) is not Nigeria, what would have happened to that poor boy?