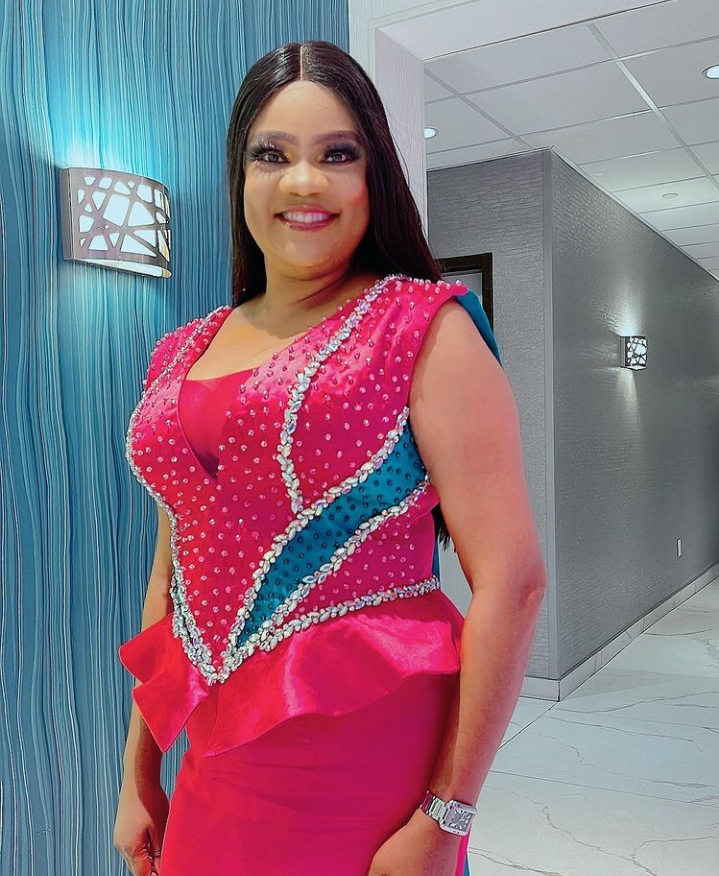 Nollywood actresses, Opeyemi Aiyeola and Biola Bayo have showered love on their colleague, Yewande Adekoya whose marriage is at the brink of collapsing.
News reported earlier that Yewande Adekoya's marriage of 8 years had crashed due to the infidelity on the part of her husband, actor and producer, Ishola Abiodun and continuous infliction of emotional abuse on the actress.
Confirming the report in a chat with Gist lover, the actress and mum of two, explained her own part of the story and pleaded that she doesn't want her husband dragged because she still loves him.
According to Yewande, her husband has been emotionally abusing her for 14 years now by talking anyhow to her, not being there to her, and always involved with different women.
For 14 years, I have been emotionally abused by him, he talks to me anyhow, i used to cry almost everyday when we were together, begging him to show me love, begging him to treat me right, to act responsibly, i was our financial backbone all through the years, but I never for once complained, I just wanted to grow up and act responsibly, honor our marriage. He just wants to keep enjoying life and leave the serious part to me to handle…
He has different girls, at the beginning of our relationship, I was convinced he was faithful and then imagine my shock when i started seeing things that can drive an emotional woman mad, I almost went mad o, thank God for God, therapy and my family, he broke me to pieces…it hurts cos I was 100% loyal to him, he took my virginity….he was my first" Yewande admitted in the chat.
Reacting to her emotional outburst, Opeyemi took to her Instagram page to show support for her.
She revealed that reading her chat was hurtful to her as she is a strong believer of marriage.
However, she believes that happiness, emotional, mental, psychological and spiritual stability is more important.
She wrote, "It hurts reading about your recent struggles. I am a strong believer in marriage n the daddy + mummy + children unit but babe happiness, emotional, mental, psychological, and spiritual stability is paramount and non negotiable. Pls continue to stay strong, cry wen u have to, to get the stream out, release urself and continue to do U cos Omo YOU matter most. Sending u n the champs lots of love, light n peace. Women mental state n happiness matter".
Biola Bayo on her part wrote, "You're beyond strong, amazing and special. Please stay strong. You're loved sis @yewandeadekoyaabiodun May God in his mercies restore and compensate you in Jesus name".