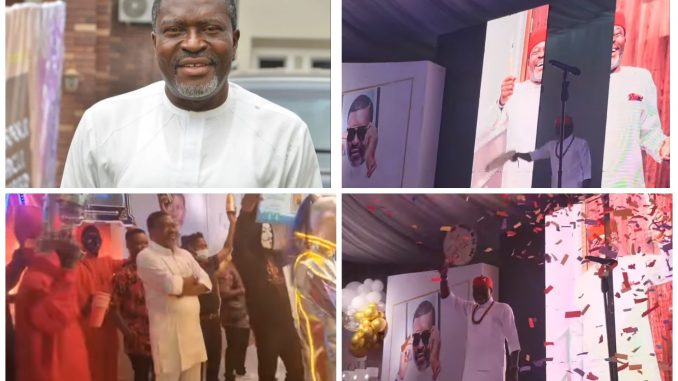 Veteran actor, Anayo Modestus Onyekwere who is popularly known as Kanayo O Kanayo threw an elaborate birthday bash over the weekend to mark his 60th birthday.
The actor who clocked 60 on March 1st celebrated his new age in grand style on Sunday, May 29.
Sharing videos on his Instagram page, there is no doubt that the veteran is much loved by people.
Still a King at 60, Kanayo made a grand entrance at his birthday party.
The actor had men dressed in masked costumes ushering him into the venue with the song, Ameno playing in the background.
Sharing videos on his Instagram page, he captured, "My dear friends, thank you all for celebrating me".
Nollygistvibes reported that the actor had marked his Diamond Jubilee at St Mulumba Catholic Parish, New Haven, Enugu State.
Kanayo Kanayo noted how at 60, his diamonds are forever.
"At 60 diamonds are forever".
It was recalls Kanayo O. Kanayo had rained curses on those spreading rumours of his demise with printed posters.
Kanayo O. Kanayo, in a video shared on his Instagram page, said because people have access to social media does not mean they can publish anything.
The veteran actress questioned why someone would wake up and print his obituary posters when he is alive.
Kanayo said entertainers have family, and people should think twice before churning out any information about them.
The actor said that the person or people involved in the rumours of his death would not pass the next seven days.
He added that he had received numerous phone calls from many of his friends and colleagues but noted that he was hale and hearty".