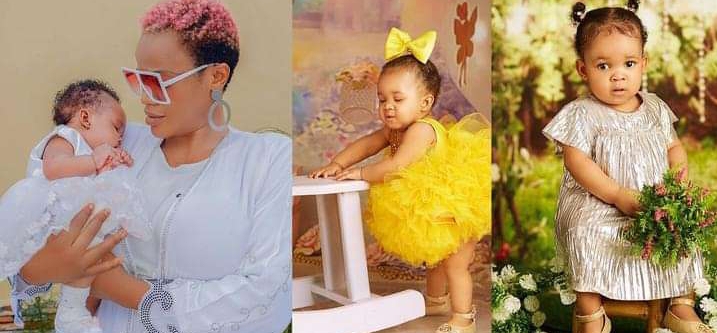 Nollywood actress Uche Ogbodo daughter, Lumina Maris, is celebrating her first birthday today, and the proud mother has filled her social media pages with beautiful photos of her little girl.
The actress welcomed her second child, Lumina, with Nigerian singer Bobby Maris in 2021.
To celebrate her first birthday, Uche Ogbodo shared adorable photos of her little girl and recounted how her birth changed her life for the better.
She prayed that her daughter would continue to grow in the light of God.
"Yaaaaay!!! 💃🏼💃🏼💃🏼….. My One and Only Bunny is 1 today !
I am So Crying Right now! 😭😭, Your Birth is Beautiful, Your Birth is Miraculous, Your Birth has Changed my Life from what it was Unsure of what the future holds to Now I see my Future! 😆😆😆
"Thank you my Beautiful LUMINA for Coming into my Life with your Blinding Light to Confuse The Darkness that Overwhelmed Me!
Even the Word of God Says Darkness Comprehendeth it not! You are that Light My LU , I love every ounce of you , from the Top of your head to the Sole of your Feet my Angel 👼. Continue to Grow In the Light of the Almighty God and the Direction of Your Papa and 1 . We Love you So Much . ♥️ . Happy Birthday My Love.
See more beautiful photos of Lumina below,