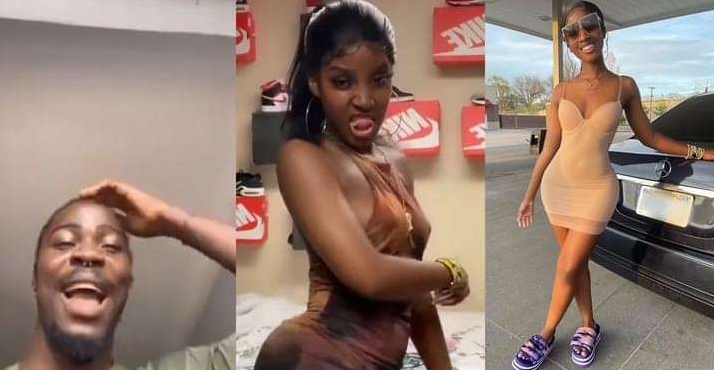 A Nigerian man was filled with utmost joy after viral TikTok star, Kelly, joined his live session after he waited patiently for 10 hours.
In the past few days, Kelly has been trending on the Nigerian cyberspace as Nigerian men fall over themselves to get her attention and express their admiration for her.
The Togolese TikToker became an internet sensation after videos of her dancing and twerking in a short figure-hugging gown went viral.
Since then, her name has been on the lips of almost every Nigerian and Ghanaian man on social media and some Nigerian ladies have been left jealous and bitter because Kelly is giving them a run for their money and carting away the attention of their men.
Well, in the light of her sudden fame, an overzealous TikTok user went live on the platform in an attempt to get the black beauty to talk to him.
After waiting for good 10 hours, luck finally shined on him as Kelly joined his live session and had a brief chat with him.
During the live, the super-excited fan is seen blushing and saying repeatedly that "dreams do come true" lol.
Click the link to watch the videos as you scroll,
https://videopress.com/embed/lS8TnVSc?hd=1&cover=1&loop=0&autoPlay=0&permalink=1&muted=0&controls=1&playsinline=0&useAverageColor=0
https://videopress.com/embed/KSJZxvOT?hd=1&cover=1&loop=0&autoPlay=0&permalink=1&muted=0&controls=1&playsinline=0&useAverageColor=0
Watch the video of her that went viral below,
https://videopress.com/embed/eQRbJ2Ze?hd=1&cover=1&loop=0&autoPlay=0&permalink=1&muted=0&controls=1&playsinline=0&useAverageColor=0