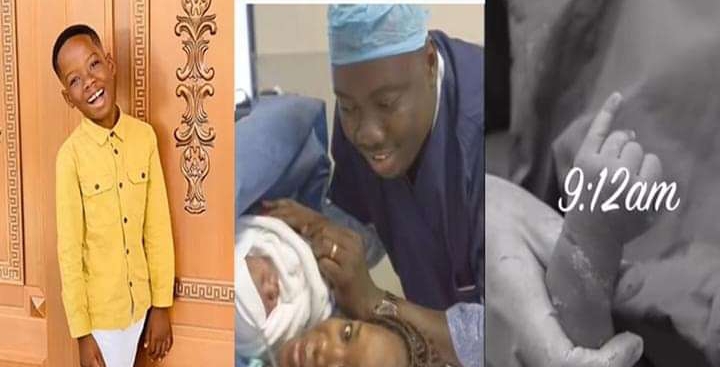 Socialite and club owners Obi Cubana and and wife have taken to IG to celebrate the seventh birthday of their fifth son, Ebubechukwu.
Sharing a video that showed how he was born, Obi Cubana's Ebere Iyiegbu who referred to him as her little hand bag, described his birth as one of the greatest gifts from God.
She wrote:
'7 years ago…God gave me one of the greatest gifts I ever imagined….EBUBECHUKWU LUTHER ❤️❤️❤️❤️❤️Happy birthday my Boo my bae!❤️❤️❤️❤️
'My gum body!😀
Mama's little hand bag!❤️
Jolly nwa m!😍
Ever happy, ever playful😂
Friendly, lovable, caring , kind and simply amazing son of mine ❤️
Diligent in everything you do! Smart, wise and intelligent! 👌
You are all of this and more and I lie not.
On this special day, I pray that the mercy and goodness of God will not depart from you🙏
You'll keep making us proud and most especially, God!
You will do exploits in your generation and your name will be heard in all the corners of the earth.
Happiest birthday to my little Soldier, my boo my bae❤️❤️❤️
Mama loves you plenty'.
The celebrant's father wrote:
'Ebubechukwu; God's Glory!!!
Very cheerful boy, with an amazing heart.
Super intelligent and full of humanity!
A giver who knows how to share, my loving boy who doesn't know how to bear grudges!
I love u son, and I'm glad to be you dad!❤️
Happy 7th birthday Ebube nwa m❤️❤️❤️❤️❤️❤️'.