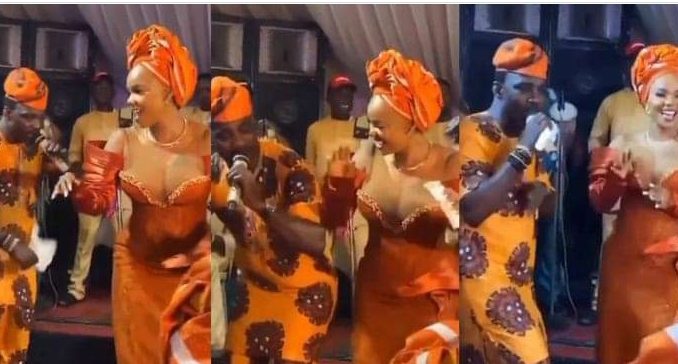 Fuji singer, Pasuma has spoken out on actress, Iyabo Ojo's love life.
NGV news reported that Iyabo Ojo made headlines when she revealed that she was dating an Igbo.
Confirming it, Pasuma stated that the actress was speaking the truth as she is currently dating someone from the Eastern state.
Pasuma made this known over the weekend, as he thrilled guests at Fausat Balogun's mother's remembrance.
In a video posted online, Iyabo was seen on the dance floor with the singer as he praised her in his dialect. Iyabo Ojo even showed the singer some of her Igbo dance steps.
Iyabo Ojo gushes over mystery lover
NGV news reported days back that Iyabo Ojo was living her best life all thanks to her mystery lover.
The mother of two, had earlier hinted at being in a relationship during Season 1 of Real Housewives of Lagos reality show.
The screen goddess in an Instagram post, credited her mystery lover for her glowing skin and happiness.
She stated that she had finally been captured by an Igbo man.
Appreciating him, she thanked him for loving her so much and for lifting her spirit.
"Thanks Obim for loving me so much & lifting my spirit…. Chai this Yoruba girl's heart had finally been captured by an Igbo man".
Iyabo also cleared the air on the misconception of being romantically involved with a married Igbo man.
The beautiful actress cum businesswoman and single mum clarified this while responding to a fan's inquiry about her new lover.
"My new man is not someone's husband" Actress Iyabo Ojo replied to the curious fan who asked "hope he is not a married man".
Toyin Abraham gushes over Iyabo's love life
Pasuma isn't the only one who has spoken out on Iyabo's new found love.
Actress, Toyin Abraham seemed to be a fan of Iyabo Ojo's new relationship.
Toyin Abraham, like many, took to her comment section to react to her new revelation.
Describing the entrepreneur as Iyawo Igbo (which means the wife of an Igbo man), she begged the actress to give her the most expensive lace.
"Iyawo igbo (fabric seller give me the most expensive lace)".
The mother of one expressed how happy she is for the actress.
She also affirmed her love for Iyabo Ojo.
"I'm so happy u r happy. That's my joy love u so much aunty Iyabo".
Iyabo Ojo accused of dating married men
It is good to see the actress has found her happiness after being, accused of having affairs with married men.
The mother of two had often time being dragged online for allegedly sleeping with men to aid her luxury lifestyle.
The most recent of them was when a Nigerian woman in the diaspora, popularly known as Adebimpe Alasoadura, called out Iyabo Ojo and other actresses for allegedly always misleading young girls with their lavish lifestyles.
In a viral video on Instagram, Adebimpe, in the Yoruba language, cussed out Iyabo Ojo and other actresses for always sleeping with rich men who allegedly fund their expensive lifestyles.
Unbothered by the latest accusation, Iyabo Ojo in a joyous Instagram video, averred that she would forever see light and positive results.
The screen diva in another post stressed that a support system is essential, by opining that everyone needs it for financial reasons, emotional reasons, companionship reasons or business reasons.