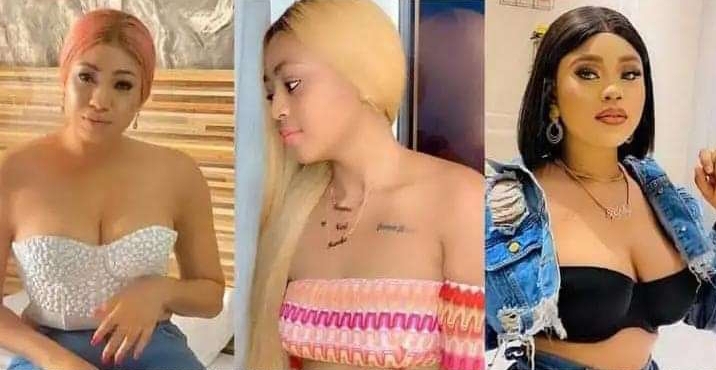 In this article, you will learn about Nigerian celebrities who are Naturally light-skinned in the entertainment industry.
Despite the movements such as Black is beautiful, a lot of people still desire lighter skin, most especially in African countries.
Some parents try as much to use skin-lightening, skin bleaching on their children's skin in order to make them light in complexion.
Research by World Health Organisation, WHO, proved that banning skin bleaching products would not work as long as being light-skinned is linked with beauty and success.
According to WHO, 77% of women in Nigeria use lightening products, making the country the highest number of women using light skinning products.
However, some Nigerians dark-skinned female celebrities have proved to us that being black does not limit chances to enjoy greater fame in the movie industry.
But it seems to be black, has not quite yet made a mark in the beauty and entertainment industry, especially in Africa as some still bleaches.
However, we have some Nigerian celebrities who did not bleach but they are naturally light skinned, see their names below:
1) TBoss
Ex-Big Brother Naija housemate, Tokunbo Idowu, popularly known as TBoss, is one of the Nigerian celebrities who are naturally light-skinned. She is very beautiful right from her childhood.
2) Regina Daniels
Regina Daniels who is the wife of Billionaire Ned Nwoko, has a fashion brand, Regina Daniels Fashion.
As an actress, she is well known for a lot of movies including Dumebi In School, Plantain Girl, Python girl, is undoubtedly one of Nollywood's most stylish and flamboyant teen actresses at the moment.
3) Ramsey Nouah
Ramsey Nouah is also a naturally light-skinned actor. As an actor, he has featured in over 100 movies.
The actor who was born to a Lebanese-Israeli father and Nigerian mother delivers his role passionately.
One of his quotes is "People do not suffer because of bad people; they suffer because the good people are silent."
4) Rita Dominic
Rita Dominic who is one of the best industrious actresses in Nollywood and also one of the highest-paid actors in Nigeria is naturally light-skinned.
5) Adesua Etomi
Adesua Etomi who is a Nigerian actress has starred in a lot of Nigerian movies including the Wedding Party and others.
In a recent interview, Adesua Etomi gave her opinion in the thought that light-skinned actresses get more movie roles.
She said, "There is a school of thought that says Nollywood likes light-skinned actors, is a few mischievous people will allude to that being a reason for the amount that has fallen on my plate. I wish this was the case and while everyone is entitled to their opinion, no director has told me I get a role because I was light-skinned."
6. Mike Ezuruonye
Mike Ezuruonye who has featured in several Nollywood movies, has been light-skinned since he was born.
7) Banky W
Banky W who is a Nigerian singer, took after his mother's fair complexion.
He was born in New York City, United States to Nigerian parents.
8) Monalisa Chinda
Monalisa Chinda is one of the Nigerian celebrities with light-skinned color.
The actress who act a lot of white lady roles in Nigerian movies became one of the first of four Nollywood actresses to be featured on the cover of Hollywood Weekly Magazine.
9) Queeneth Hilbert
Queeneth Hilbert who is a Nigerian actress is everyone's favorite over the years because of her beauty and skin color.
But the Actor Guilds of Nigeria (AGN) suspended the fast-rising Nigerian actress indefinitely over unprofessional conduct.
10) Hilda Dokubo
Hilda Dokubo who is a Nigerian award-winning film actress is one of the Nigerian celebrities who are naturally light-skinned.
11) Caroline Danjuma
Caroline Danjuma who started acting in 2004, is very talented in interpreting any movie role given to her. She is as well very beautiful and naturally light-skinned.
12) Lilian Bach
Lilian Bach who was born to a Yoruba mother and a Polish father is also naturally light-skinned. She started her acting career in 1997 but stopped in 2013.
13) Adunni Ade
Adunni Ade who was born to German-Irish mother and a Yoruba Nigerian father, is an American/Nigerian actresss.
As an actress, Adunni Ade who is naturally light skinned, has featured in over 100 movies (both in the English and Yoruba).
14) Sophie Alakija
Sophie Alakija who was born to an Islamic family and Lebaneses descent, is also one of Nigerian celebrities who are naturally light skinned.
15) Phyno
Nigerian singer, Phyno who is renowned for rapping in the Igbo language, is naturally light in complexion right from his birth.
As a singer, he has worked with artists such as Davido, Timaya, Wizkid, Flavour and others.
16) Nkiru Sylvanus
Nkiru Sylvanus who is a Nigerian actress and politician, is light in complexion. As an actress, she has featured in over 200 movies which include Hope of Glory (2004), Pastor's Blood (2006) and others.
17) Maria Chike
Former Big Brother Naija housemate, Maria is also one of Nigerian celebrities who are naturally light-skinned.