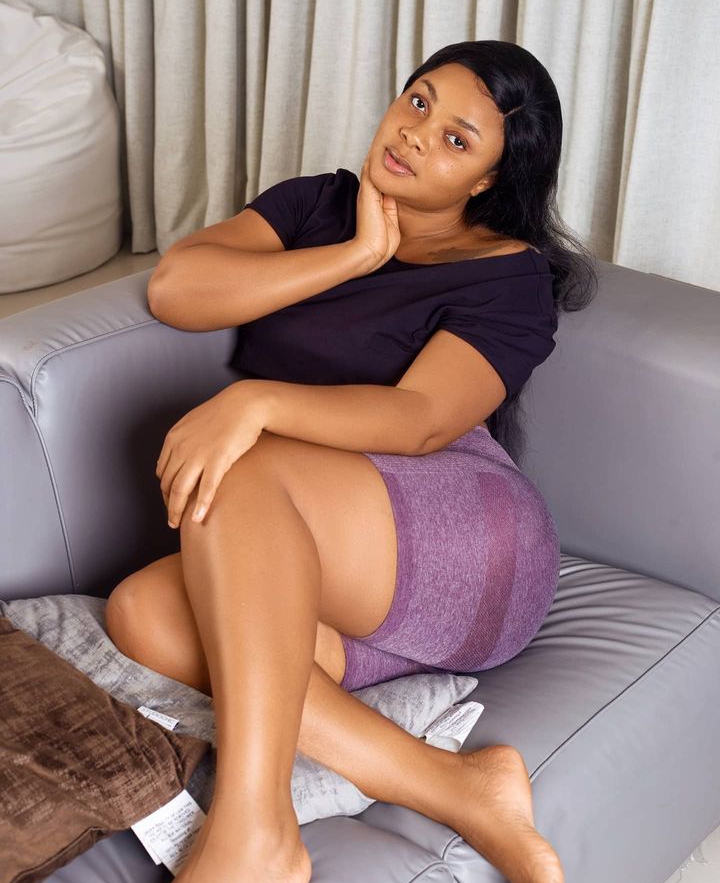 Everyone who is familiar with or follows actress Bimbo Ademoye is aware of her close relationship with her father. There are several videos of the two of them playing, joking about, and just generally getting along well with their daughter. Since most people only see Bimbo with her father and since she has in the past mentioned her father as a "single parent," they tend to believe that Bimbo's mother is running late. But she's not, in fact.
Bimbo Ademoye discussed her parents and the reason she and her mother don't get along in a recent interview with Hawa Magaji for her YouTube show, Who's In My House. She said the following.
During the interview, Bimbo Ademoye was asked: "You've spoken about growing up with a single dad so I just sort of want to know what that experience was like for you, and how it was able to show you into who you are today?" She said:
BIMBO ADEMOYE: Uhmmm, growing up with a single dad wasn't the easiest because poor guy, there's some things he doesn't know. You know, like when you have your first monthly flow, he's just as shocked as you are. And at some point, he was very torn in the sense that he had to go work for his children and at the same time, he had to be there for his children. Growing up and seeing the sacrifices he would make, like his friends will call and say "let's go clubbing" and he'll be like "no, I have children", it just kinda like shaped my relationship with my dad to be stronger. So my dad is like the most amazing human being ever. Father of the universe, my best friend!

"Where was your mom? Is she passed?"

BIMBO ADEMOYE: No no no, my mum is alive, we just don't– my mom is very much alive. She lives like fifteen to twenty minutes away from me. We just don't have a friendship. So I just don't talk about it because I would love for people to respect that. Like I'm a very private person. So like my mum left when I was like 2. So my first ever betrayal came from my mother. So uhmm, we kinda tried to rekindle – I won't even say rekindle because there was no romance there, I didn't get to know her. But I tried to build a relationship with her. Right now, we have a relationship. Like I'm doing my duties as a child. Paying for this, paying the rent, allowances, and what not. But that's about what we have. And I think I'm very okay with that. I'm okay with the no friendship, no closeness zone that we're in for my mental health and for my own sanity. I'm very much okay with it. But my mum is very much alive. Very beautiful, dark skinned, robust, chubby. I got my hips from my mum and my waist from my mother as well. But yeah, I don't have a relationship with my mum and I'm fine with that.

What do you think about what Bimbo Ademoye said?