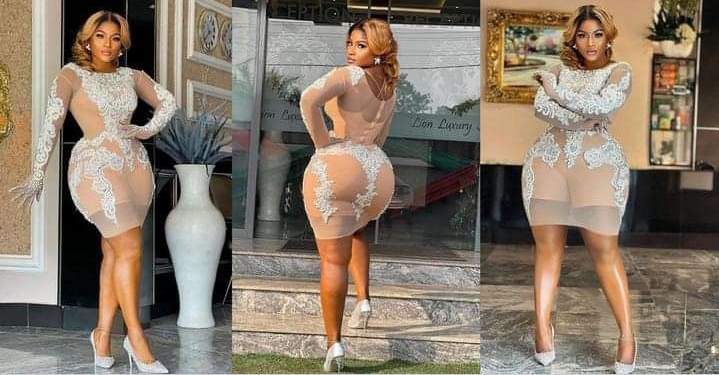 It is no longer new to see Nollywood actress, Destiny Etiko getting dragged for her poor fashion sense.
The talented movie star and producer, is currently under heat over her outfit to colleague, Nkiru Sylvanus's white.
Brightloaded reported that the movie star held the final leg of her wedding, white wedding on Sunday, January 15th. Destiny Etiko, who was one of the celebrities at her wedding had wore a sheer dress to the event.
Her choice of outfit didn't sit well with many netizens as her underwear was in full glare.
Reacting to it, many took to comment section to once again drag the actress for her poor fashion sense.
One Addy organics wrote, "Awful dress sense! Very local
One Jedi the black barbie wrote, "To be honest her fashion sense is poor she needs a stylist
One sister miracle wrote, "She nor sabi dress, nakedness everytime
One Maa Meyaa wrote, "Her fashion sense is always zero…but I love her acting thou
One official diamond wrote, "She dey dress well for movies but I don't know why she dresses like this out of set
One Presh wrote, "She should try step up
One Big chic wrote, "Worst dressed Actress ever".
Destiny Etiko receives support after being mocked over her "cheap" lifestyle
Last year, NGV reported that Destiny Etiko was mocked over birthday outfit.
Destiny became a subject of mockery online as many ridiculed her for her poor fashion sense.
Report made rounds about the cost of the outfit. It was alleged that the outfit cost $79.99 which is over 50,000 in Nigeria.
This didn't sit well with some netizens as they mocked her for wearing cheap clothes.
Many expected her to wear outfits worth hundreds of thousands or millions.
Rather than add to the mockery, many jumped in to defend her.
They faulted those mocking her as they noted how the actress was cutting her clothes according to her size.