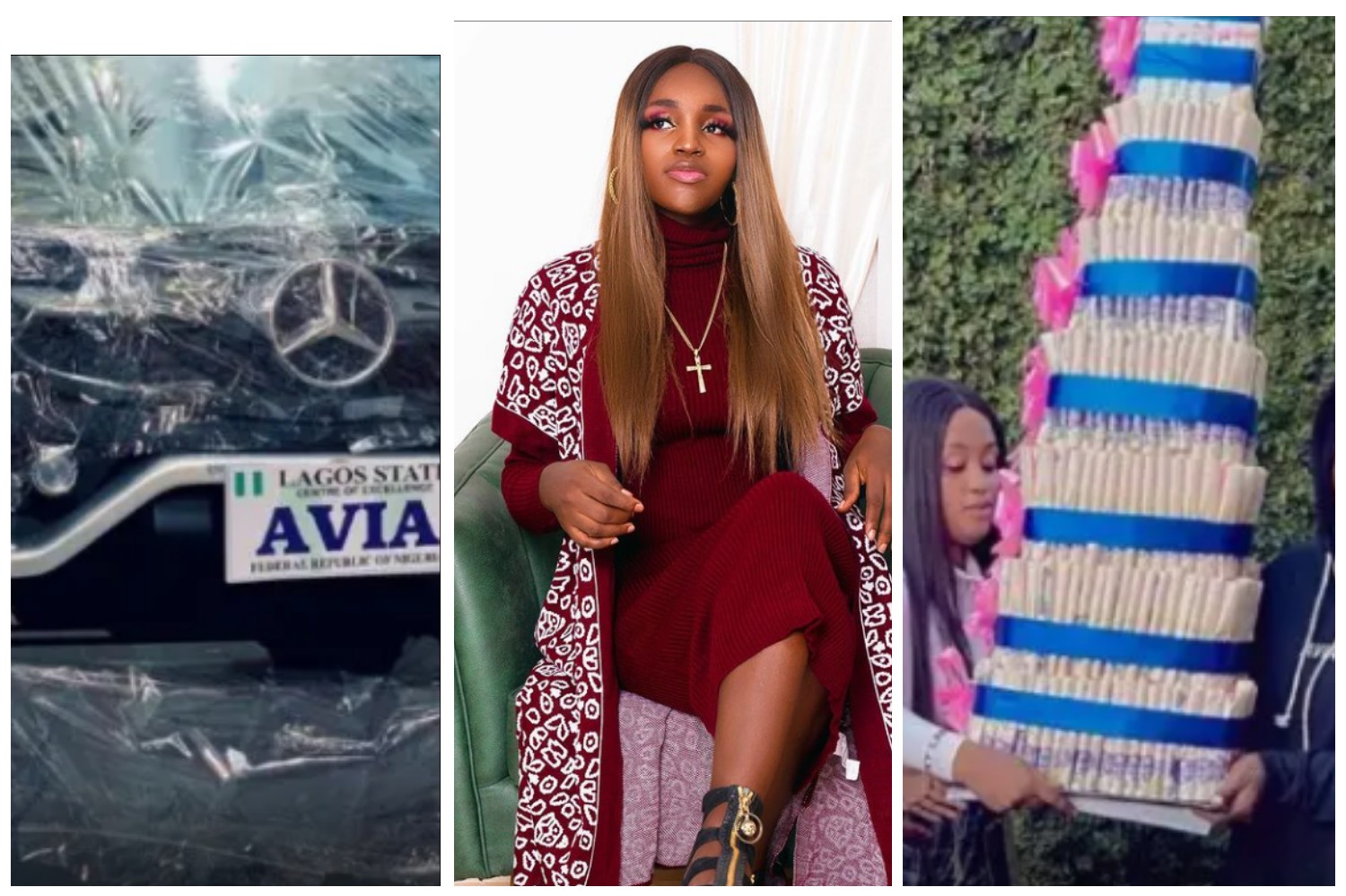 Nollywood actress, Bukunmi Oluwasina, has been receiving many birthday messages and gifts for her birthday.
The actress was given several gifts by many of her fans, but her most significant was the money cake she got and a car for her newborn baby.
Sharing the photos of the gifts, she wrote: WHO IS DOING BIRTHDAY, WHO IS RECEIVING GIFTS NITORI OLOUN?🤦‍♀️😫😫 EYIN FANS, E DE BERU OLOUN😔 @avialuxuries COME AND CARRY YOUR CAR🙄
Plus WHO AM I GOING TO SHARE ALL THESE CAKES WITH THOUGH? O Por O. If you are interested, In eating my birthday cake with me, say hello in the comment session o. Make I share location.
Had earlier reported that the talented actress took to her Instagram page to pen down a lovely birthday message to her self; she mentioned that it's her first birthday ever that she does not have anything to ask God.
According to Bukunmi, she has everything she wants and she is grateful to God or his extravagant grace.
In her words;
"I remember MAY last year, The only thing hubby and I wanted from You as our birthday gift; and asked for…, You gave it to Us that same month, and eventually delivered it to Us, Safe and sound. It's My birthday again this year, I'm in tears as I type this. God, you know why? I wanted to ask for another birthday gift as usual, only for me to look around. I have looked and looked, I HAVE NOTHING LEFT TO ASK FOR. Then I realized how much you have blessed me And for the first time on my birthday for this past twenty plus years, I have come to ask for NOTHING, BUT TO SAY THANK YOU, LORD, FOR EVERYTHING.
BECAUSE THE WORDS OF THE LORD SAYS IN THE BOOK OF JOHN 3 VS 27, that "No One Can Receive A Thing Unless God Giveth From Heaven" For all that you have given, for all that you were, all that you are and will still be to me; I, OLUWABUKUNMI, I'm here today to say THANK YOU, LORD. FOR BEING GOD OVER MY LIFE AND EVERYTHING YOU HAVE BLESSED ME WITH, THAT I DON'T EVEN DESERVE. FOR HOW YOU RECKLESSLY LOVE ME, DESPITE ALL MY SHORTCOMINGS. FOR YOUR EXTRAVAGANT GRACE OVER ME, EVEN WHEN I FORGET TO PRAY… I GIVE YOU ALL THE GLORY. GOD, I'M GRATEFUL… AND, I LOVE YOU LORD. HAPPY BIRTHDAY, GRACE."
Watch video: