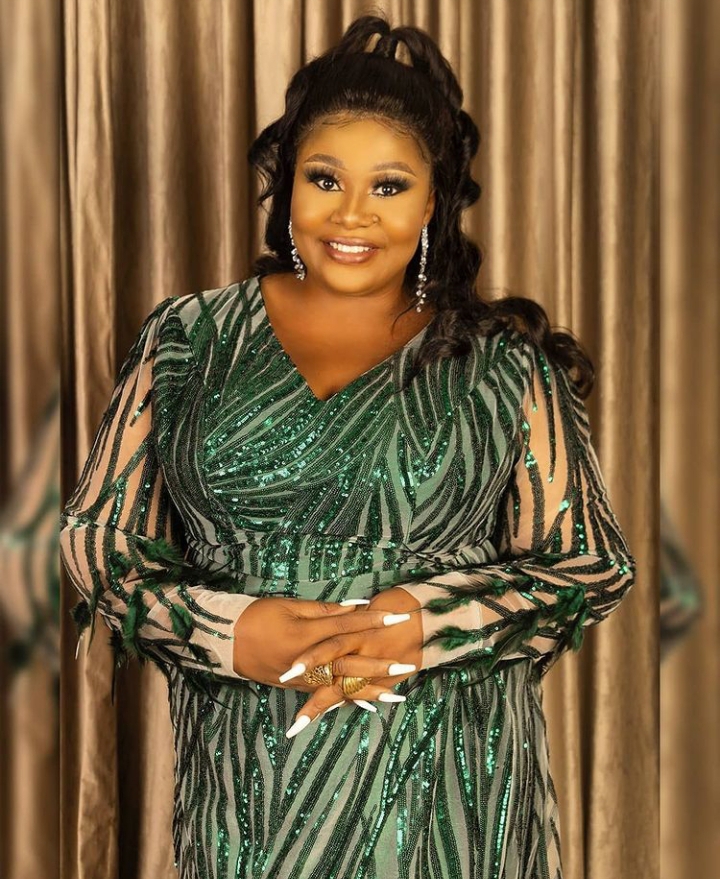 Actress Adaora Ukoh has quizzed her colleague, Uche ogbodo over the manner she was spotted showering so much kisses on her baby who tried fight back.
Uche Ogbodo shared a video showing moments her baby fought back as she planted kisses on her face and body. In the video the actress was captured kissing her baby all over her face and eventually biting her arm and ear playfully. She shared the video saying:
"Bunny Fights Me A lot Because the Kisses I give Is Too much 🤣🤣🤣 , Even when she is saying NO I still insist and Kiss 💋, don't blame Me hahahhah, she is so chubby and Adorable ☺️"
The video stirred up reactions, and one of her colleagues, Adaora Ukoh took to the comment section to ask her if she wants to swallow her baby. "U wan swallow am", she asked. Another actor, Chuks Omalicha asked if she wants to 'chop' her baby, "You wan chop am?", while others could not help but admire the cuteness of the baby…
Seecreenshot.
It was recalls that Uche Ogbodo laid curses on all those are wishing her death and other sorts of evil.
The mother of two made this known while reacting to a news report that she is quite sick and about to die.
"It will never Be Well with you and your Whole Family Anywhere you are", she had cursed the reporters of the negative reports.
Rest of her post reads, "You See I am not one to Instigate Malice but that does not mean I am not Aware of Evil Vices when I see One!
People Go tooo Freaking Far in their Quest for Trendy news ! And that will make them Wish Evil on their fellow humans . All the People Involved in Spreading. This fake News about Me , the Same Things you Write About Me is the Same thing I wish you and your Entire Generation! It will never Be Well with you and your Whole Family Anywhere you are. As you Wish me so shall it befall You ! Amen! Rest In Peace Evil People. I Goddess will Live Longer than Metusela ! Go Figure! Baskards!!! 😡 Ndi Osuimi Who Ever Wrote This! Akiri tapu kwa gi Anya!
The Nollywood actress who recently confirmed that she's now happily remarried to a younger man; Bobby Maris had earlier urged single ladies to be patient and wait for a good man.
Ogbodo who had her own fair share of heartbreak when her first marriage to a footballer crashed a few years ago wrote this on her verified Instagram page, "Ladies Be Patient , there are still Good Men Out there , your own will find you . Work On being the best version of yourself first."